UNESCO Working Paper Series on Mobile Learning: Europe
The fifth and sixth papers in the UNESCO Series (introduced on EduTechDebate here) examine mobile learning in Europe.
Mobile devices and policies
The first paper, Turning On Mobile Learning in Europe: Illustrative Initiatives and Policy Implications, describes a range of mobile learning programs in the European Union and explores how these programs address educational needs in the region. It also surveys national and local policies related to mobile learning and analyzes their impact.
As detailed in the paper, many European countries have adopted policies that restrict the use of mobile technologies in education, particularly at the lower grade levels. In this context, it is meaningful that the few countries which have lent serious government support to mobile learning saw explosions in innovation and levels of use. The paper describes a massive initiative in the United Kingdom (UK) called the Mobile Learning Network (MoLeNET) which spanned three years, involved 7,000 staff and 40,000 learners, and had a budget of 12 million British pounds.
The initiative spawned a panoply of smaller mobile learning projects and experiments, many of which were shown to improve student retention and lower drop-out rates, two goals of the overarching initiative. Although MoLeNET was shelved in 2010, its influence continues to reverberate not only in the UK but across Europe. The paper explains that the Netherlands and Denmark have also invested public money to improve education with mobile technology. Tellingly, both countries are considered to have some of the most advanced and impactful mobile learning projects in Europe.
Yet despite these examples, mobile learning projects are generally perceived as being less reliant on government funding than earlier efforts to integrate technology in education. They are commonly characterized as bottom-up, rather than top-down initiatives. As the UNESCO Working Paper Series makes clear, a large number of projects have grown up in the "peripheries" of education: many initiatives start small and aim to help learners outside the structures of formal education. 
This approach has had advantages: projects tend to be original and diverse, and they are able to respond quickly to the needs and challenges of particular contexts. However, by tracing the impact of major government-supported initiatives, the Turning on Mobile Learning in Europe paper suggests that public money may be crucial to efforts to move mobile learning from the margins of education to the mainstream.
What do you think?
Are major government investments necessary to make mobile learning work?
Are mobile learning projects really forged from the bottom-up?
Can mobile learning initiatives directed from the top-down be successful?
What are the risks of this approach? What has been your experience?
Is government support necessary (or has it perhaps been an impediment)?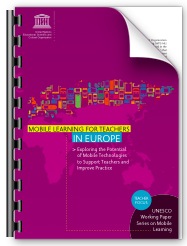 Mobile devices and teacher development
The second paper Mobile Learning for Teachers in Europe: Exploring the Potential of Mobile Technologies to Support Teachers and Improve Practice looks closely at how a handful of programs have employed mobile devices to support teachers and enhance their professional development.
This paper describes projects that are using mobile technologies for education in productive, yet decidedly "unsexy" ways.  To cite just one example, the Molly system designed by Oxford University seems to do little more than provide students a portal to information about their classes: they can access syllabi, calendars, schedules, and podcasts of lectures from a variety of mobile devices.
Other projects described in the paper are similar.  A project underway at Yorkshire Coast College in the UK allows teachers to set up texts timed to remind students of homework due dates.  Still other projects detail programs that allow teachers and school administrators to send text messages to students' parents to notify them about student progress and disseminate information about events and school closures.  None of this is blow-your-socks-off exciting.  Indeed many of the initiatives use mobile phones in ways that they have been used for over two decades: to communicate short, simple, and concise bits of information.  Yet (and this is the important part) the programs work. 
They may not be using the GPS feature in the newest smart phone or high-end apps, but they do a job for teachers and schools and, as explained in the paper, more often than not, they do it well.  Parent attendance at back-to-school nights increased between 60% to 80% when schools in Norway decided to send parents text messages reminding them of the event.  This is a type of mobile project that while painfully simple, has helped teachers.
What do you think?
When we talk about mobile learning we tend to focus on the "bleeding edge" of technology.  We think about how to use the best technology in the flashiest gadgets to do new and amazing things.  This is important surely, but it is hardly a license to ignore the "ordinary-but-still-effective" uses of mobile technologies.  What then are the "un-fancy," "make-me-yawn," "commonplace," and "staggeringly mundane" ways that mobile technology can be used to improve education?  If the projects described in the paper are any indication, these uses are sometimes the most effective.
Forthcoming titles in the series will also be published on the UNESCO Working Paper Series on Mobile Learning site.