Much Thought and Planning Needs to go into Distance Education for Teacher Professional Development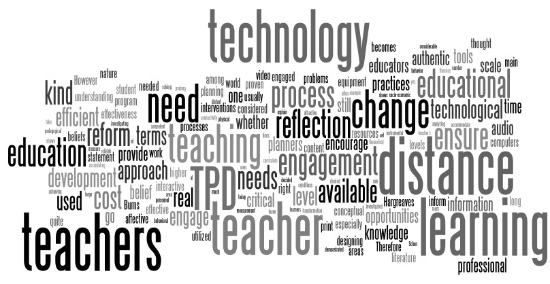 On a theoretical level, no one can dispute the statement that "technological advancements today have the potential to provide efficient solutions for distance teacher professional development (TPD)", this is especially true in terms of time and scale. However, a set of questions stem from the above statement, and the main ones are: "Can the available technology ensure distance learning that provides for teacher engagement in what is considered to be one of the most complex learning processes?" And if yes, "Which of the available technology can be utilized to ensure teacher engagement in what has proven to work in teacher professional development?" And finally, "Will the utilization of this kind of technology in distance education still be efficient in terms of cost and scale?"
Can the available technology ensure the needed engagement for effective distance TPD?
Whether distance or face-to-face education, educators and researchers who have investigated educational reform around the world agree that the top-down approach to reform, in which most governments engage, has shown to be inadequate in impacting teaching practices and student achievement, the two main areas at which educational reform is focused (Fullan, 2000; Hargreaves, 2000).  Moreover, the research has demonstrated that putting teachers through pre-defined training-packages and "laboratory-based" workshops that assume that teachers can simply transfer the knowledge they are exposed to into their real life classrooms, all have proven ineffective in achieving the kind of transformation that is needed for long term sustainable change to take place (McLaughlin in Hargreaves & Evans, 1997).
The literature attributes the lack of effectiveness of "pre-packaged" educational reform interventions to the fact that the planners of reform usually fail to give attention to teachers' affective needs, content and pedagogical knowledge and to the cultural and socio-economic conditions in which they work (Day et al. 2006).
The above argument could explain the reason distance education for TPD is quite often looked at with scepticism, especially that the literature shows that distance education tends to be one of the interventions that education planners resort to when there is a need for a "quick-fix" and/or a "high-visibility" solution to educational problems (Burns, 2012). If teachers need to change their beliefs about the nature of the content of their subject matter and the curriculum, about the nature of their learners, about teaching practices and, most importantly, about learning itself, this "quick fix" approach to TPD does not usually leave room to build teacher willingness and preparedness to go through the critical process of belief change that will allow for real change in teaching practices.
Therefore, before deciding on the effectiveness of distance TPD and whether technology is instrumental in this kind of TPD, educational planners need to start by designing their TPD programs with a focus on the belief change process that the teacher is to go through, and to factor in authentic learning opportunities which ensure engagement in experiencing, analyzing, solving problems, and working together. The next step would then be to identify the technological tools that can support teachers through this process of rethinking their views on issues related to their role, and investigating their beliefs about teaching and assimilating theories that inform the desired change. It is the level of engagement in these processes, and the effect of this engagement on changing the teacher's concept of learning and teaching that would be the best measure of the success of any distance learning program.
Which technology can accommodate a process of conceptual change?
It is clear that technology firms have been able to provide the market with a long "shopping-list" of technological tools that can be used for distance TPD, and some seem quite attractive. However, what remains to be decided is which tools can be used to encourage teachers to engage in this arduous process of belief or conceptual change. The issue is not in whether print, audio, video, online or hybrid approach is used, it is rather, how these can be used to ensure a high level of interactivity of thoughts and feelings among the teachers themselves and among the teachers and the teacher educators (Burns, 2012). If technology is utilized only as an efficient mechanism that can disseminate information and professional development resources to a large number of teachers in distant places, then there is a danger in assuming that teachers will engage with the "information" provided and that if a teacher "has the information" then this will be sufficient for him/her to use it in a way that improves student learning.
Distance learning needs to be designed with an interactive approach that can ensure authentic learning experiences where the teacher is engaged at all levels, the cognitive, the affective and the behavioral; i.e. teachers need to be engaged in a learning process that fosters their reflection on their teaching at a critical level and that enhances their reflection during their teaching to become more sensitive to the needs of their students and to act upon these needs.
Would the "right technology" still be cost effective?
The third area to be considered when designing a distance learning program is whether utilizing the "right technology", the kind that will encourage the teacher to engage in authentic learning opportunities, will still be efficient in terms of cost and scale. It is common knowledge that the more interactive the technology the higher is the cost, both initial and running costs. This becomes more of a burden in remote geographical areas where even having electrical power for computers is a luxury.
For example, reflection opportunities could be triggered through print, audio or video, but there is also a need to probe teachers' reflection to encourage development of thought into the higher levels of critical reflection, the kind of reflection that can ultimately influence teaching behavior (Dewey; 1993; Schon, 1987). This probing will need to be carried out by competent teacher educators who are available to provide feedback in real time. This is where the cost becomes considerable due to the need for reliable connectivity and technological equipment such as computers, cameras and audio equipment, let alone the need for having qualified personnel available in real time.
Therefore, distance education for TPD could be an option for many educational systems in the world, but much thought and planning needs to go into understanding the context in terms of both human and physical resources, and it is this understanding that is to inform planning, implementation and measurement of impact.
References
Burns, M. (2012) Technology, Teaching and Learning, Beirut, LB: D-RASATI, Ministry of Education and Higher Education
Burns, M. (2011) Distance Education for Teacher Training: Modes, Models, and Methods, Washington, DC: Education Development Centre, Inc.
Day, C., Stobart, G., Sammons, P. and Kington, A. (2006) Variations in the work and lives of teachers: relative and relational effectiveness, Teachers and Teaching: theory and practice 12 (2), pp. 169-192.
Dewey, J. (1933) How We Think: A Restatement of the Relation of Reflective Thinking to the Educative Process, New York: Prometheus Books (original book published in 1910).
Fullan, M. (2000) The return of large-scale reform, Journal of Educational Change 1, pp.5-28.
Hargreaves, A. (2000) Editor-in-chief introduction: representing educational change, Journal of Educational Change 1, pp. 1-3.
Hargreaves, A. and Evans, R. (1997) Beyond Educational Reform: Bringing Teachers Back In, Buckingham: Open University Press.
Schon, D. A. (1987) Educating the Reflective Practitioner: Toward a New Design in Teaching and Learning in the Professions, San Francisco: Jossey-Bass.
Wafa Kotob is currently the Senior Education Advisor in the UNICEF country office in Lebanon. She has had diverse and extensive experience in education as a school teacher and school counselor and professional development provider. This prepared her to have a realistic and comprehensive approach to educational planning and development which proved effective during her previous role as the Educational Planning and Policy Expert in the Ministry of Education and Higher Education in Lebanon. Her PhD research focused on Teacher Professional Development, in particular the use of technology for teacher professional development. She is part of the Ministry of Education and Higher Education's National Strategic Planning Development Team which is writing the Lebanon's National Educational Technology Strategic Plan.