Tablets are Good, Content is Better, and Teachers are the Best Educational ICT Investment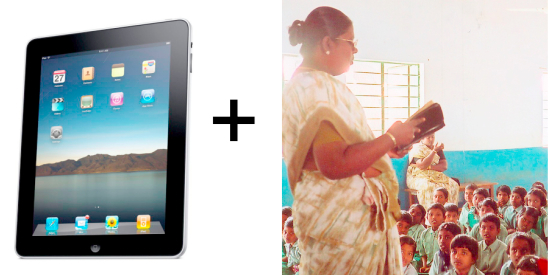 .
Tablet form factor computers are undoubtedly an exciting way to interact with technology, especially, when they are touch screen enabled. The intimacy and immediacy of the personal screen and the ease of use and intuitive design of modern touch screen operating systems greatly eases user fears and facilitates user adoption.
This ease of use is exciting technologists and educators, both of whom are thinking of new ways to use technology like the iPad in educational systems of the developing world. Now I agree with them. I believe the iPad's sleek user interface and ease of use will transform the ICT in education experience – but not for everyone.
As part of the Slide2learn conference in Queensland, Australia this week, I made the following presentation to deep dive into the promise and pitfalls of an iPad education in the developing world. Watch the video or read on for details for why I think that tablets are good, content is better, and teachers are the best educational ICT investments
.
Content is Better
Yes, the iPad has great promise, especially since there are now thousands of apps that provide an almost limitless assortment of learning experiences through the touch screen tablet form factor. From simple acts like counting numbers and recognizing letters to reading interactive books and connecting with social media, it's the wealth of digital content that keeps teachers and students engaged.
Yet where is this content in the developing world? The iPad may be amazing when connected to iTunes in the English-speaking world, but it's of limited use if there is no digital content. For example, the Wikipedia's article count by language shows millions of English language articles, but the 8 million people Xhosa speakers – 20% of South Africa's population – are served by only 118 articles in their language. And not a single iTunes app.
There are a number of initiatives that seek to build educational digital content in local languages, and even ones focusing on developing content that aligns with national curriculum in the developing world. These efforts are nascent at the moment, though they are expanding rapidly as more electronic devices are present to access them.
Teachers are Best
What isn't growing, what is lacking are the skilled teachers that can take a digital device – any digital tool – and incorporate it into the classroom, into student-centric learning.
Right now, the vast majoring of teaching that occurs in the developing world is rote memorization. This "chalk and talk" teaching instruction is often just transposed from analog to digital form when technology is deployed. In OLPC Peru, the largest 1:1 laptop deployment using XO laptops, students use their 400,000+ computers to transcribe texts from notebooks or chalkboards to their laptops. Are you surprised then that pedagogical use of the laptops has decreased among students and teachers over time?
Teachers require training to understand how to teach differently. How methods like student-centric learning can be applied to the classroom, and shown how this learning style will increase educational outcomes. Yet who is investing in teacher training? If you look around, Ministers of Education get excited about shiny, flashy things, not human capacity building. And who can blame them? It's a lot easier to show off a technology implementation than a trained teacher, and children and their voting parents can see a quick difference with a computer that isn't so noticeable with a trained teacher.
So regardless of how amazing the iPad is, until we invest in trained teachers who know how to use technology to improve their teaching activities, until we have parents and politicians focused on learning outcomes and not iTunes apps, regardless of how many apps or how easy the technology is, I fear that iPad educations in the developing world will be wasted.