Collaborative Learning 2.0 for Pakistan
The technological evolution of Web 2.0 tools has produced a global platform that empowers the collective wisdom and intelligence of the crowd. Powerful arrays of technologies are emerging as ecosystems for extending, enhancing and enabling learning in an accelerated mode.
The importance of Learning 2.0
Deemed "Learning 2.0", these online collaborative, interactive, and just-in-time information delivery technologies are encroaching on mainstream education in developed economies. The planets in Pakistan's education constellation are aligning for universal adoption with its rapidly growing Internet infrastructure, increased funding from donor nations and an overwhelming demand from an illiterate population for which only scaling via Learning 2.0 technologies can provide the solution.
These new and innovative technologies are not intended as replacements for traditional education, but rather as extensions that enhance, compliment and scale learning in deep and powerful ways. Moreover, technology tends to transcend ethnic quagmires undermining consensus in countries having diverse cultures, languages and governmental jurisdictions. Could the challenges of Pakistan's National Education Policy be expedited with interactive communication and collaborative technologies? Let's explore some of the learning features of these emerging technologies.
Tagging, the practice of attaching a descriptive word or phrase to a piece of online content for the purpose of linking it to other related digital media, is a well-known web phenomenon. Students searching for those tags can retrieve that specific and relevant content; thus, facilitating just-in-time learning and creating new possibilities for creative expression.
The Learning 2.0 Platform for Teachers and Students in Pakistan has introduced a new technology that provides the capability to transcend the limitations of simple tagging for describing entire chunks of rich media. This next generation of tagging and its derivative progeny – linking and searching – allows the creation of direct links to specific parts within a larger selection of media. By indexing metadata, which enables tagging specific sections, you get deeper data information with the descriptor "deep tagging".
Creating just in time learning environments
Consider the possibilities for just-in-time learning: educators record their multi-hour lectures with an inexpensive webcam, tag and upload the video files onto the Learning 2.0 Platform as small digestible chunks – reusable learning objects. Students can pinpoint and repeatedly review the relevant information without enduring the entire session. Deep tagging metadata allows them to jump instantly to that specific section within the video for the information they need to learn, anytime and from anyplace with web access.
The adjoining image illustrates how deep tagging enhances collaborative learning. Abdul Aziz Bhatti, Principal at the Federal Government Model School for Boys G-0/4 in Islamabad was videotaped giving a lecture about Chemistry. Students tagged the video while watching and their tags are indexed and made available to all who subsequently watch the presentation. Students can also comment upon their peers' tags and all comments are emailed to the teacher for response and interaction.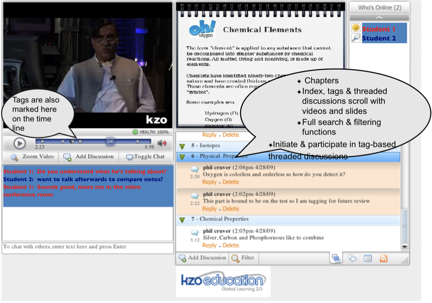 Link to Principal Bhatti's Lecture.
Educators can also provide students with links to their lectures and assignments to tag as a class project. With this technology they can tag "chapters" and "topics" within the media file with a descriptive text for each tag. Additionally, all tags can be exported and distributed as a blog.
Once the students tag a portion of a video or locate a tagged section of a video that is relevant to what they wish to learn, they may want to share the link with others. They can embed this as a deep link on their website, blog, or even in an email message. When other students click on the deep link, they will be taken not to the beginning of the video but to that precise section within the video.
Rather than conducting a search for keywords or tags that describe an entire video, students can conduct deep searches for tags that describe specific sections within a video and then immediately jump to that precise portion of the video clip. This saves time and facilitates education because students don't have to watch a five-minute video to find a five-second nugget of information they need to understand.
How do these deep technologies specifically enhance learning?
They increase the granularity of indexed media, allowing specific parts of video lectures to be more easily remixed, linked, and reused.
They engage students to co-create content via annotation of lectures.
They make media, as an instructional tool more efficient since reviewing streaming video is less time consuming than print media.
Also, these deep technologies enhance the educational content. The more the commenting and annotating, the more valuable the learning asset becomes as the wisdom of numerous and diverse interested parties add layers of collective intelligence to the video. Furthermore, specific moments of time within these videos can be instantaneously identified and retrieved using with the Learning 2.0 Platform metadata search engine.
A new hope for education in Pakistan
Consider the opportunity for enhancing the quality of education in Pakistan with the ability to access thousands of video lectures produced by the top teachers throughout the country. This digital archive could be searched as indexed metadata by key words within the annotations. Not only would this video library compliment and extend traditional learning but it would also provide scale, giving millions of students access to a quality 21st Century education.
This past October, President Obama signed the Enhanced Partnership with Pakistan Act (Kerry-Lugar Bill), which authorizes tripling U.S. civilian economic and development assistance to Pakistan to $1.5 billion annually for the next five years. Education is a priority; therefore, the adoption of Learning 2.0 as a complimentary component to Pakistan's national curriculum, would cost a pittance while fostering a new culture of learning. It would also be a promising and positive step towards educating millions of students with the new literacy they will require to compete in a global flat world economy.
Phil Cruver
http://social.kzoeducation.com/user_blog.php