How Can ICT in Education Excite Girls and Boys?
Recently, European Schoolnet completed a study and white paper on gender equity in the information and communications technology (ICT) sector across Europe. They found that a high number of female students are not pursuing further studies or careers in the ICT sector, despite having good basic computing skills. In fact, the study found the single most de-motivating factor is the view that the tech sector is inherently better suited to men.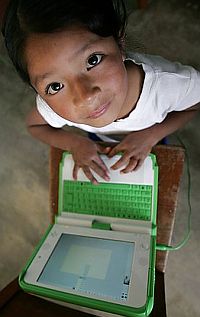 From this conclusion came the following question for developing world educators:
How Can ICT in Education Excite Girls and Boys?

Look at any ICT-enabled school classroom, and there is often a greater excitement for the technology with boys than girls, which by middle or secondary school, can translate into ICT tools being an exclusive domain of boys, excluding half the learning population from their benefit. How can technologists and educators design more gender neutral, or pro-female ICT-enabled learning experiences?

And from these experiences, can we hope to also change the gender balance in the ICT industry? Or will ICT, as an industry, always be mainly male"?
For September, the Educational Technology Debate we'll have three discussants to give us both the formal research recommendations and informal, personal experiences from which educators can develop ways to motivate all students to enjoy ICT equally:
Alexa Joyce
Alexa Joyce is a specialist in education technology with European Schoolnet. She has consulted for UNESCO Bangkok Asia-Pacific Bureau for Education, UNESCO International Institute of Educational Planning and for the OECD Centre for Educational Research and Innovation. She has a Masters in Biological Sciences from the University of Oxford and an MBA from Solvay Business School, Brussels.
Brooke Partridge
Brook Partridge is CEO and founder of Vital Wave Consulting, which she created to further emerging markets as a new discipline in business management. Previously, she was the Business Director of the Emerging Market Solutions Organization at HP where she lead HP's first technology solutions for developing economies. She lectured in the Department of Spanish and Portuguese at Stanford University and holds a Master's of Pacific International Affairs from UC San Diego.
Karen Coppock
Karen Coppock, PhD is Vice President of Vital Wave Consulting with over a decade of experience in strategic business planning for emerging markets. Previously, Dr. Coppock served as the Director of Industry Collaboration for the Reuters Digital Vision Program at Stanford University, and also held positions with Telcordia Technologies, Williams Communications, INTELSAT, Pacific Bell, AT&T and Harvard's Center for International Development (Information Technology Group), Santa Clara University's Global Social Benefit Incubator and the US Peace Corps. She received her Doctoral and Master's degrees in international business from the Fletcher School, Tufts University.
Please join us for what we all expect to be a lively and informative conversation exploring how ICT in education efforts may be influenced by gender, and how we can reverse the perception that anything ICT-related is the domain of boys, to the exclusion of girls. Your input can start right now in the comments below, and Alexa and Brooke will post their opening remarks beginning Monday, September 7th.