Key to ICT4E Sustainability: Cost-Benefit Analysis
Sustainability is generally associated with ecological systems. Fortunately for us, the educational system is not nearly as complex as natural ecological systems. In the latter, numerous subsystems, linked in a complex relationship of interdependencies and feedback loops, interact non-linearly and are hard to comprehend. The delicately balanced dynamic equilibrium of complex ecosystems can be perturbed by human actions, sometimes leading to dire unintended consequences. The notion of sustainability of complex ecosystems is hard enough to define, leave alone figuring out how to maintain them through time.
Cost-Benefit Analysis
The educational system is a much simpler beast in comparison. A schematic showing the major subsystems can be drawn on a paper napkin over a cup of coffee.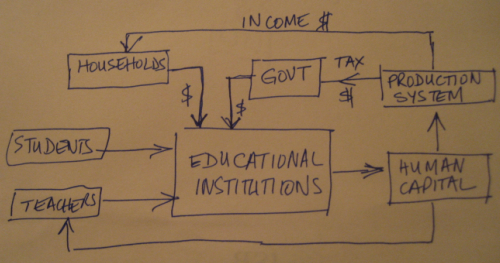 .
Sustainability of the system itself is a matter of getting sufficient funding to keep the accounting books straight. One needs nothing fancier than that well-worn classical tool – cost-benefit analysis – to figure out whether an intended action would make the system better or make it worse.
The tool is simple enough but care has to be taken in its use. The full cost – which means the opportunity cost – has to be considered and weighed against the benefits, for an appropriately chosen period. Sustainability in the present context of the use ICT in education would mean that over some pre-defined period, the benefits at the very least justify the costs. That leaves only the problem of how to measure the relevant benefits and costs.
Also it must be acknowledged that there is no such thing as "the educational system." There are numerous educational systems, each with its own constraints as defined by various socio-economic conditions. Whether a specific intervention is sustainable or not depends on the type of educational system. More concretely, the introduction of high technology could be sustainable in high-income countries but not in low-income countries. Or the introduction of high technology could be sustainable where human capital (teachers) is relatively more expensive than technology, not otherwise.
ICT has the advantage of scale economies, a feature that is almost entirely missing in human labor-intensive teaching methods. Scale economies means that the average cost drops as the quantities supplied increases. They arise wherever fixed costs are high but the marginal cost of supplying is very low. ICT solutions will be particularly effective – and therefore that much more sustainable – in places where the numbers are large.
Fortunately, large numbers are easily encountered in many environments. Furthermore, these large numbers need not be geographically concentrated. Advances in communications (the "C" in ICT) technologies have made it extremely cheap to record, store, transmit, and remotely retrieve information over long distances. Moreover, content is a non-rival good. It means that one person's use of the good does not diminish the quantity available for others. Together, those two facts imply that educational content once created can be used by many who are geographically dispersed. This argues for the use of widespread use of ICT and points to its sustainability.
Costs and Benefits are Relative
Another point worth keeping in mind is that there are various levels of education, from primary education to extremely highly specialized education at the tertiary level. While in most cases, education at the higher end of the spectrum must involve ICT, whether ICT can be sustainably used at the lower end of the spectrum is a matter that is context sensitive.
For example, in Berkeley, California, technology is cheap relative to labor. There it makes sense to use computers to address adult illiteracy (to the extent that there is adult illiteracy.) In the numerous public libraries in Berkeley, computers are available by the scores and anyone who wishes can use them for free. The wages of a tutor, however, are very high.
Compare the Berkeley situation with say a small town, Akola, in the Indian state of Maharashtra. Akola does not have freely available computers in public libraries. Actually, there are no public libraries in Akola. The cost of deploying, maintaining and using one computer – which could be used by at most a hand-full of people – would be comparable to the annual per capita income of India. Instead, employing a person to teach adult literacy using the same money would benefit dozens of learners.
I argue that one has to be careful about figuring in the full cost of an intervention. This becomes especially important when subsidies are introduced which distort the true costs. Subsidies for computers may make it appear as if the cost-benefit calculus is working out but in truth it could be that a more comprehensive calculation would reveal that the costs exceed the benefits. Resources of all kinds have alternative uses and what is spent on subsidies in one area is not available for spending on other areas.
This topic of what sustainability means in the context of the use of ICT in education is fascinating and important. It's rich with possibilities and focusing attention on it can have definite policy implications. The welfare impacts of a good ICT use policy are far from trivial and therefore the topic deserves our serious attention.