What Have We Learned From One Laptop Per Child?
Four years ago, Nicholas Negroponte introduced the world to the "One Laptop Per Child" idea at WSIS by showing off a "$100 laptop" with UN Secretary General Kofi Annan. The educational and technology fields haven't been the same since.
First, by the end of 2009 OLPC should pass a stunning milestone – 1 million XO laptops deployed in over 40 countries around the world, almost all in 1:1 computer to child ratios. From full saturation in Uruguay and Peru, potentially high saturation in Rwanda, and multiple smaller deployments in almost every developing country, OLPC's one computer per child educational model is having a tremendous impact on educators and students.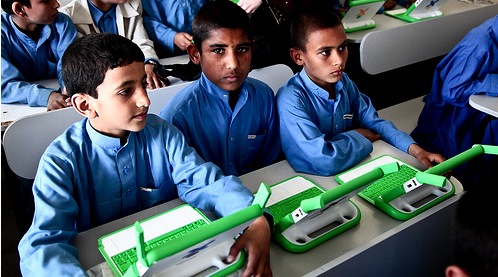 .
Next, the humble XO laptop which was once ridiculed by the titans of technology, spawned the netbook. And the netbook is eating the computer market at a stunning growth rate. From essentially $0 sales in 2nd Quarter 2007 to $3 billion in sales – 20% of the entire portable computer market – in 2nd Quarter of 2009, netbook sales show no signs of slowing.
But OLPC has impact deeper and farther than just XO's passed out or netbooks snapped up. Its changing education, technology, even culture in ways beyond any one person's understanding. So this month's Educational Technology Debate will take a different form than previous conversations.
To capture what we have learned from OLPC in a holistic fashion, I'm soliciting commentary from each of you. What do YOU think we're learning from Negroponte's wild idea of Constructionism via XO laptops?
Feel free to summit your thoughts and ideas in the comments below. At the same time, if you find yourself with too much to say in a comment box – stop! Email it to me instead and I'll publish it as one of this month's posts.
Related Links