UNESCO Working Paper Series on Mobile Learning: Global Themes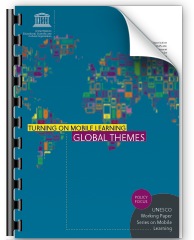 Over the past several weeks UNESCO has been publishing individual titles in its Working Paper Series on Mobile Learning.
Recently the Organization concluded the first phase of the Series by releasing two Global Themes papers.  These papers, unlike previous titles, are not region-specific.  Instead they synthesize information contained in the regional papers to identify salient trends that cut across geographic boundaries.
One paper, Turning on Mobile Learning: Global Themes, highlights issues policy makers and other stakeholders should consider when infusing mobile learning into education systems.  The other paper, Mobile Learning for Teachers: Global Themes, examines characteristics shared by programmes that assist educators, either by aiding their work in schools or by helping them improve their own pedagogical and content knowledge.
The completion of the regional and "Global Themes" mobile learning papers marks an important milestone for UNESCO.  After over a half year of effort the Organization has consolidated its burgeoning understanding of the current state of mobile learning and shared this understanding with the world.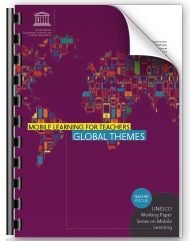 This represents a good opportunity to step back and ask you to share your opinions about what should "come next."  In light of the findings contained in the recently published papers, where would you like to see UNESCO and perhaps similar international organizations direct their efforts when it comes to mobile learning?
The two Global Themes papers offer cogent analysis of mobile learning and its practice around the globe.  Now is therefore an ideal time to ask:
What should we—not just UNESCO but all of us involved in ICT in education—do with important information and findings advanced in papers and the Global Themes papers in particular?

What do you think are key steps to take to scale and mainstream mobile learning?