UNESCO Working Paper Series on Mobile Learning: North America
The first papers in the UNESCO Working Paper Series on Mobile Learning  (introduced on EduTechDebate here) are focused on North America and Latin America. Below is a description of the North America papers.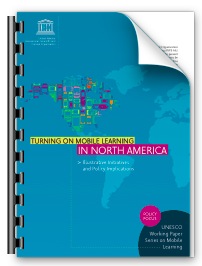 Mobile devices and policies
The first of the North America papers Turning On Mobile Learning in North America: Illustrative Initiatives and Policy Implications describes a number of mobile learning initiatives in schools and universities, surveys existing policies, and explores the implication for revising or creating national, state, district and institutional policies related to mobile learning.
The paper reveals that of the policies that do exist, many are too broad or restrictive to enable mobile learning. An example is the Children's Internet Protection Act (CIPA), which addresses concerns about access to offensive content over the internet on school and library computers. Since 2001, when rules for implementing CIPA were issued, many district administrators have remained confused about its proper implementation.
Liability and concern for student safety have led to extremely restrictive policies prohibiting mobile devices in many US and Canadian districts and schools. For example, almost every school district in the USA has a filtering system, and more than 55% of district policies are more restrictive than the federally mandated CIPA regulations.
For policies at the district and institutional level the paper urges a shift of focus from behaviour that is acceptable – encoded in Acceptable Use Policies (AUPs) – to that which is responsible, described in Responsible Use Policies (RUPs). The role of the school, and parents, shifts from policing mobile phone use and online behaviour, to developing responsible learners and children.
What do you think?
Are most high-level and school policies too restrictive?
How can we find the balance between being inclusive enough for learners to benefit from online access, and being restrictive enough to protect them?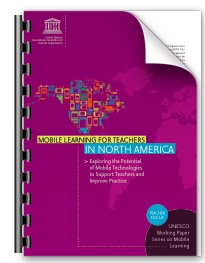 Mobile devices and teacher development
The second paper Mobile Learning for Teachers in North America: Exploring the Potential of Mobile Technologies to Support Teachers and Improve Practice looks at the relatively nascent area of how mobiles are being used, or could be used, to support teachers and their professional development. Of particular interest is how mobile access increases opportunities for teachers to participate in online communities of practice, which is a proven way to support teachers. Mobiles also provide a way for teachers to enjoy professional development anytime and anywhere.
The paper found that many teachers are eager to engage in mobile learning for professional development because of the flexibility it provides. Without mobile technologies, participation in professional development necessitates attendance at an event or at least access to a computer; with a mobile device, teachers can access online professional development from any location that has wireless connectivity.
Mobile devices enable access to online courses and other types of professional development opportunities – such as communities of practice, social networking sites, and content repositories – at any time, so teachers can structure their professional growth according to their schedules and preferences.
What do you think?
Professional development requires engagement, focus and usually some face-to-face instruction or discussion time with peers. Can mobiles really be used to support professional development, or do they only trivialise down to bite size chunks what should be a dedicated and time-intensive exercise?
Forthcoming titles in the series will also be published on the UNESCO Working Paper Series on Mobile Learning site.