UNESCO to release research into mobile learning initiatives, policies and teacher development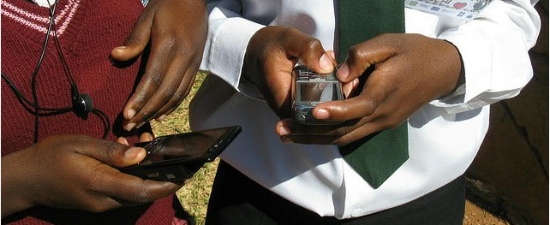 Over five weeks UNESCO, in partnership with Nokia, is launching its Working Paper Series on Mobile Learning with the release of a set of twelve papers reviewing mobile learning initiatives, implications for ICT in education policies and how mobile technologies support teacher development. The papers will be released according to regions of the world.
Information and communication technologies (ICT) can contribute to achieving the pillars of Education for All (EFA), which are universal access to education, equity in education and the delivery of quality education. Given the unprecedented uptake of mobile devices in the world – there are now almost 6 billion mobile phone subscriptions – these ICT present a new and exciting possibility for supporting EFA.
UNESCO is committed to fully exploring how mobile learning, using mobile devices alone or in combination with other ICT, can improve education. While mobile learning is certainly not new, only in very recent years is it receiving widespread attention and building serious momentum. The evidence base for how mobiles can improve grades, increase learner motivation, deliver content to hard-to-reach communities, support district and school administration, and enable adult education in areas such as literacy, is mounting.
However, many challenges still abound, including the lack of an enabling policy environment, inequity of access, negative social attitudes towards mobile devices as learning tools, lack of awareness of mobile learning, high cost of usage and concerns around online safety. It is essential that the ICT in education community engages with these issues in open dialogue with policy makers, principals, teachers and parents so that the potential benefits of mobile learning are realised, and the challenges are addressed. Two areas of particular interest to UNESCO are policies related to mobile learning, and how mobiles can be used to support teachers and their professional development.
Mobile learning initiatives and related policies
Many governments have adopted some form of national ICT in education policy. However, many of these policies were developed in the 'pre-mobile' era. The few policies that do refer to mobile devices either reference them obliquely or, in some cases, ban them. Overall, there is a dearth of considered and thorough mobile learning policies. To address this vacuum UNESCO will develop a set of guidelines for mobile learning policies to help national governments and educators create environments in which mobile learning can flourish. The papers released over the coming weeks are the initial research to inform the guidelines, which will be published in late 2012.
Mobile technologies for teacher support and professional development
There is a global shortage of trained and motivated teachers. In order to meet the EFA goal of achieving Universal Primary Education (UPE) by 2015, 5.4 million primary teachers are needed. How can mobile technologies play a role in meeting this need, in supporting teachers and their professional development, and in retaining existing teachers? Initial research has shown that this is a relatively unexplored area of mobile learning and that there is much more that can be done with mobile technologies. UNESCO's forthcoming papers identify some of the existing mobile-based teacher development projects, and how this area can be further developed. The papers inform four projects that UNESCO will implement with teacher training organisations in Nigeria, Senegal, Pakistan and Mexico in 2012 to further explore and understand this area.
Release schedule
For each region there is one paper on mobile learning initiatives and related policies, as well as one on mobile technologies for teacher support and professional development. The papers will be released as follows:
26 April: Latin America and North America papers
3 May: Europe papers
10 May: Asia papers
17 May: Africa and Middle East papers
22 May: Two global findings papers that synthesise information across the five regional papers in each series
Please note that the papers are not a comprehensive regional review, but a regional scan to identify and review illustrative cases of mobile learning initiatives, related policies and examples of teacher support and professional development projects via mobile technologies. UNESCO embraces a purposefully broad definition of mobile devices – including mobile phones, e-readers, tablet computers, MP3 players and handheld gaming consoles – in recognition that the list is dynamic. Of importance is not the exact definition of mobile devices but rather how they can be used to support education. However, while UNESCO supports a flexible definition, its current work in mobile learning will focus predominately on mobile phones because of their widespread pervasiveness. The papers thus look at mobile phones in particular when discussing mobile learning.
As a whole, the UNESCO Working Paper Series on Mobile Learning provides a valuable snapshot of what mobile learning looks like around the world.  Collectively and individually, the papers consolidate lessons learned in different regions to provide policy makers, educators, and other stakeholders a tool to help them now and in the future better leverage mobile technology for learning.
Please provide feedback on the papers. The input of the widest possible range of stakeholders, from national policy makers to rural teachers, is critical for helping develop and improve the field of mobile learning. Comments from practitioners in particular regions are especially valuable as the mobile learning landscape is highly uneven and nuanced. It will take a global view, but local conversations, to understand how mobile learning is best applied in particular contexts.