The System-wide Approach from Global e-Schools and Communities Initiative
The effective deployment of ICTs in schools and indeed in any setting is a complex affair that goes beyond purchasing hardware and software. The Global e-Schools and Communities Initiative (GeSCI) has identified several key elements that must be considered if the deployment of ICTs is to have meaningful impact. These components must all co-exist; none is optional and together form a system. This system should be comprehensive, demand driven, capable and efficient and well coordinated.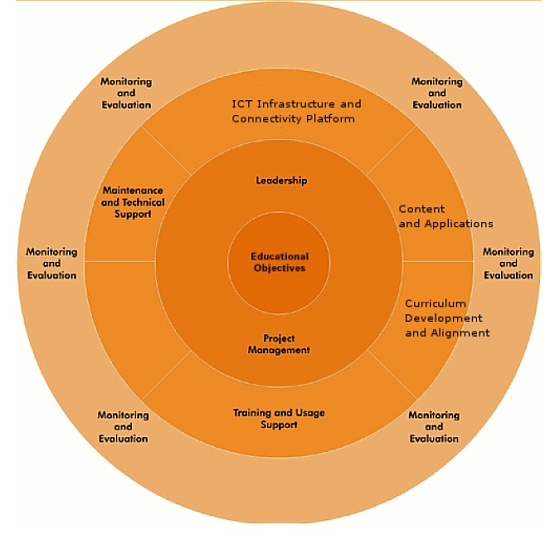 The following system-wide approach to deploying ICT is excerpted from Deploying ICTs in Schools: A framework for identifying and assessing technology options, their benefits, feasibility and total cost of ownership by GeSCI
.
A new approach
Once a country – or a school district or even an individual school – has decided to invest in ICTs, it must choose how to go about it. Choosing a technology platform is like making any other major investment, such as buying a home or a car. You decide what you would like, work out what it takes to supply that, and see whether you can afford it. If you can, you go ahead, if not, you adjust your plan.
The framework and corresponding system-wide approach is based on 3 key considerations that arise directly out of some of the major problems facing the deployment of ICTs in schools today:
Focus on educational objectives ICTs are a tool and not an end in themselves. What tools one chooses to use for any given task depends on the task and anticipated outcomes and not the capabilities of the tool. In the same regard, choosing and deploying ICTs for education must stem from the desired educational objective and outcome.
Target system-wide approach Purchasing and installing the ICT platform in schools is not the end of the story but rather a part of an integrated (wide) system that requires that a plan be developed in advance, ICTs purchased and installed, training conducted, provisions for user support, technical support and maintenance made and continuous assessment and evaluation conducted to ensure that educational objectives are being met. While GeSCI advocates the use of a system-wide approach designed to extract full impact from deploying ICTs in schools, this document focuses on the benefits, feasibility and costs associated with the deployment of ICT platform. It does explore in some detail and assesses the types and options of education content, initial and ongoing user training and support of teachers, technical support and maintenance. It does not however discuss management, monitoring and support in any detail. The Total Cost of Ownership (TCO) tools however capture all the components of the system-wide approach. It is important to recognize that there are relationships between the various components and the educational objectives as shown in Figure 4. These relationships have an impact on making choices of ICT platforms and are explored in detail in the next few chapters.
Consider benefits, feasibility and long term costs Benefits and feasibility of both the technology selected and the overall approach to deployment should be considered along with the long term costs of introducing ICTs in schools. It is dangerous to focus on the immediate or initial costs such as those for buying and installing computers in a school lab without considering the long term recurring costs, which are usually much higher than the initial or immediate costs. The feasibility of any given ICT is important to determine whether that particular ICT is applicable in a given context irrespective of the inherent benefits. Feasibility is usually influenced by local conditions. For example, the lack of wired telecommunications infrastructure at a remote village may mean that the only connectivity options are satellite or none at all. Or, cultural considerations such as teachers' lack of readiness to use technology in the classroom may mean a deployment of technology in teacher offices only.
The Strategy
Drawing from the considerations above, a strategy to select and deploy ICTs in schools has 5 key steps: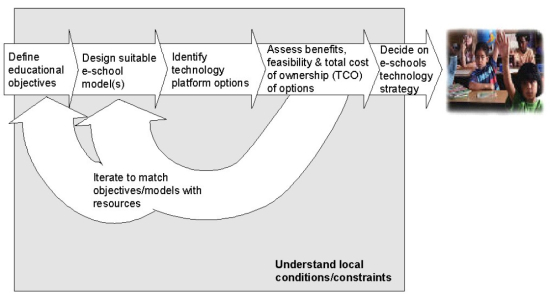 Define the educational objectives: what are you trying to achieve with the technology?
Design suitable "e-school model(s)" that best achieves these objectives: who uses/ will use the ICTs, where do they use it, how many devices are deployed, what basic functionalities should it have and what content and applications accompany the devices? Note that a school may implement more than one e-school model to achieve its objectives.
Pick the specific technology platform (what hardware, software, connectivity and services to buy?) along with the necessary content and applications, user training and support and maintenance and technical support that suit this model and the educational objectives to be achieved.
Work out how much this technology will cost, not merely to buy in the first place, but throughout the life of the project. In addition to the initial purchase of the equipment and other costs such as telecommunications and modifications to physical school infrastructure, this TCO should include all the accompanying components of the system-wide approach: content and applications, user training and support and maintenance and technical support.
Compare this TCO to the budget. If it is within the budget, you can move forward to design a strategy around the chosen technology platform. If it is too expensive, you must go back and review the earlier choices, starting off with your selected technology platform and then the e-school model. Finally, if the cost is still too high, you must go all the way back to your educational objectives, and make compromises until the TCO falls to an acceptable level.
Remember that every stage of this process will be shaped by local conditions and constraints, which could influence or limit the choices at any point of the approach. As you will have undoubtedly have noted, the approach to choosing an e-school technology strategy is a complicated one and does not necessarily have a "right" answer.
In fact, the reader may well have come across numerous other frameworks that strive to achieve the same goal. Therefore the approach described above is not meant to be a definitive one, but merely one that we have found to be useful in guiding our thinking.
We will now consider each of these steps in more detail in the succeeding chapters of Deploying ICTs in Schools. Chapter 2 considers each of the 5 steps in the strategy in more detail. Chapter 3 provides a detailed assessment of the possible e-schools models and technology options and Chapter 4 presents the electronic tools that accompany the framework and discusses how they can be used in the selection of technology options.
Excerpted from Deploying ICTs in Schools: A framework for identifying and assessing technology options, their benefits, feasibility and total cost of ownership by Global e-Schools and Communities Initiative