Groups and Grandma: Home Computer Use Boosters
In both the Romania and North Carolina studies, either researchers or readers of the reports have drawn the conclusion that children will not focus on school work if given unfiltered and undirected access to computers and Internet access. Yet Professor Sugata Mitra, famous for his "Hole in the Wall" experiment – where a computer was placed in a kiosk in an Indian slum and children learned how to use it by themselves – may have found two simple ways to give children direction.
At a recent TedTalk, Professor Mitra expanded on his Hole in the Wall experiment by asking "Who is the Teacher?" In this set of experiments he found two ways to direct student learning without the need for a formal educator,
Put Students into Groups
What the Romania and North Carolina studies may have actually found is that children in the absence of peers may lack focus, as Professor Mitra found that once in a group, children with even very simple or overly complex tasks can achieve wonders.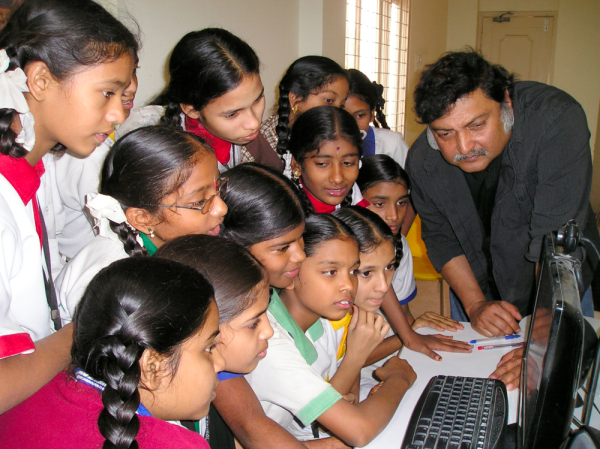 .
As reported by the BBC, First he gathered 26 children who did not understand English and gave them computers preloaded with information in English.
"I wanted to test the limits of this system," he said. "I set myself an impossible target: can Tamil speaking 12-year-olds in south India teach themselves biotechnology in English on their own? I told them: 'there is some very difficult stuff on this computer, I won't be surprised if you don't understand anything'."

Two months later, he returned. Initially the children said they had not learnt anything, despite the fact that they used the computers everyday.

"Then a 12-year-old girl raised her hand and said 'apart from the fact that improper replication of the DNA contributes to genetic disease – we've understood nothing else'."
Where previously, these students scored 0 on a biotechnology exam, after this two month session, they scored 30 – "an educational impossibility" according to Professor Mitra.
Get Grandmothers Involved
While we cannot expect teachers to go home with children, and the Romania and North Carolina studies might suggest that parents are too busy to direct child usage of computers and Internet access, there is a group of people who may have the time and the care to guide the next generation's usage of technology: grandparents. Here is Professor Mitra's experiment as recorded by Ethan Zuckerman:
He asked one of the best students [in the biotechnology experiment] to teach the others and improve their schools. She asked how she could possibly teach them, and Mitra suggested "the grandmother method" – stand behind, admire, act fascinated and praise. After two months, the class score was up to 50.

He's got a great new idea – the granny cloud. He's recruited hundreds of British grandmothers who donate their time over online video connections and answer questions for children. In both India and the UK, he's teaching children using groups, Google and the granny cloud.
Integrating Groups and Grannys into Education
Building on his experiments, Professor Mitra has developed "Self Organised Learning Environments" (SOLE) in 10 schools in India.
Typically, a SOLE is a 'room' located in the school premises with 9 computers in clusters of 3 which facilitates 4 children per computer interacting with the other 2 computer terminal groups as well within their group. These children are connected to a "mediator" via Skype, who reads stories, converses, sings, and generally participates with the children.
It will be interesting to see what the SOLE experiments in schools achieve, vs. the informal learning environments that Professor Mitra has worked in before. Can the self-directed learning be replicated in the structure of an educational system – or even should it? Or is the best usage of the SOLE concept to empower children at home to increase educational outcomes with technology?
Regardless, Professor Mitra is very clear on one concept: "It doesn't work if you give them each a computer individually."
.