Does Google Make Us Stupid? Attention, Thoughtfulness and Literacy in the Networked Age
Two years ago, Nick Carr made the controversial assertion that Google is making us stupid in a magazine article; now, he has extended the argument in his new book, The Shallows: What the Internet Is Doing to Our Brains.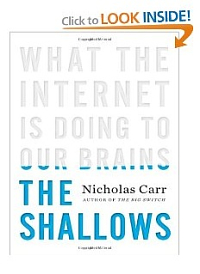 Mr. Carr presents considerable evidence that the networked, interactive nature of digital technologies scatters our attention and limits our ability to think deeply. Even more, he points to emerging evidence that access to computers leads to poor educational attainment. Concerned about the decline of books, he writes,
"We need to be concerned about the digital divide, to be sure. But perhaps we should also be thinking about the Gutenberg divide."
Nearly all of the debate around Mr. Carr's provocative and thoughtful book is focused on areas that are traditionally well-saturated with media, both physical and, increasingly, digital. What, though, of the developing world where printed material is traditionally not as widely disseminated and where basic literacy is sometimes lower?  As low-cost digital devices proliferate throughout poor regions, is it a reason to worry or a cause for celebration? Simply put, is a mobile phone in the hands of an impoverished student better or worse than no book at all?
For this month's Educational Technology Debate, we have four experts on media and education providing their views on this question:
Please join us over the coming month in what promises to be a lively and enlightening debate about one of the more important issues facing educators around the world.
.