The World Bank's First Foray Into Serious Gaming
The gaming industry has been growing faster than the movie industry in the past number of years and is occupying an increasing number of hours of time in a young person's day. Many have argued that educational games have the potential to reach students outside of the classroom where some traditional educational methodologies are failing. Indeed, this genre of "serious games" has mushroomed over the past number of years. In order to better understand the impact and potential of such games, earlier this year, the World Bank decided to develop and evaluate an educational game focused on youth social innovation and development – Evoke: a crash course in changing the world.
EVOKE trailer (a new online game) from Alchemy on Vimeo.
Evoke emerged from discussions with universities in Africa who increasingly wanted to find avenues to encourage their students to works with local communities and develop innovative solutions to local development challenges. The universities were searching for ways to engage students in real world problems and to develop capacities for creativity, innovation, and entrepreneurial action that many believe will be the engine for job creation now and in the future.
Working with leading designers, Evoke was created to empower young people all over the world, and especially in Africa, to start solving urgent social problems like hunger, poverty, disease, conflict, climate change, sustainable energy, health care, education, and human rights; to collaborate with others globally; and to develop real world ideas to address these challenges.
Players were challenged to complete a series of ten missions and ten quests — one per week, over the course of the ten-week game. The "text book" for this course was an online graphic novel written by Emmy-award nominated producer Kiyash Monsef with the art done by Jacob Glaser.
Set in the year 2020, the story follows the efforts of a mysterious network of Africa's best problem-solvers. Each week, as players unravel the mystery of the Evoke network, they will form their own innovation networks: brainstorming creative solutions to real-world development challenges, learning more about what it takes to be a successful social innovator, and finding ways to make a difference in the world.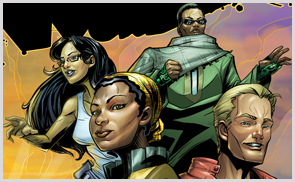 Findings
By the time the EVOKE adventure ended, 19,324 people from over 150 countries registered to play, far exceeding expectations. Players submitted over 23,500 blog posts (about 335 each day), 4,700 photos and over 1,500 videos. The site received over 178,000 unique visitors and 2,345,000 page views with time per visit averaging over eight minutes. For the month of March, EVOKE generated just under 10% of what the World Bank's entire external website generated with regard to page views (1.1 million versus 12.1 million). In fact, visitors to EVOKE demonstrated substantially higher levels of engagement than those visiting WorldBank.org, Kiva.org, or Unesco.org. Phenomenal numbers.
Over the course of the 10 weeks, players posted ideas, found friends, commented on projects, shared information, rated the quality of the information shared, discussed, argued, created and acted.
Librarians donated time to do research. Someone developed a wiki for the game. Teachers created their own online community within the game. Some players developed an online conference for sharing the best ideas. One player wrote a song about EVOKE. Others planted gardens.
"I got to see things I would not have unless I went out actively searching for them. A lot of knowledge has been imprinted in my mind from some of the activities. Now I can delve deeper into certain topics, talk about them and do something about them, which I couldn't have before." — EVOKE player
Based on the evaluation of the program, 60% of sub-Saharan Africans report that the game had a strong effect on "thinking big thoughts about the future" and 60% reported that the game influenced them to "start something new".
At the end of the game, 74 project ideas (known as 'evokations') were submitted and the top 25 projects qualified for a month long on-line challenge with Global Giving resulting in US$30,000 in additional funds raised.
As an innovation and skills development tool, EVOKE has demonstrated enormous potential to create ideas; provide the social capital to move those ideas form concepts to reality; provide skills to execute those ideas; and link innovators to essential partnerships needed to grow those ideas.
As a first foray into serious gaming, we were thrilled with the response, and we look forward to new ways to engage learners to improve their communities around the world.