Technologies for Learning vs. Learning about Technology

.
Computers are present in all aspects of modern society; from simple applications such as automatic doors and programmable air-conditioning systems in the home, to more complex uses in the medical field. Computers have changed many fields of study. However, computers have not influenced education in the ways predicted by researchers and early advocates of computers in education.
Studies on the impact of technology in education often report that teachers lack the capacity to carry out innovations, that the culture of the school is not supportive of technology adoption, or that the policies are not compatible with the vision of the use of technology (Blumenfeld, Fishman, Krajcik, Marx, & Soloway, 2000). Others report that teachers' limited access to technology is the reason that computers have had a minimal effect on learning environments (Cuban, 1986; Sheingold, & Hadley, 1990; and Cuban, 2001).
Here I would like to introduce and defend a couple of arguments:
The focus should be on students' learning;
The power of computers is in the hands of children, not just teachers or adults.
Students' learning
First, education should be about students' learning, rather than teachers' teaching. This does not mean that teachers are not part of the students' learning experience, but that the students' learning should be the central part of the policies, and the strategies to promote the experience should be designed around the student. If the teachers don't promote learning by engaging with students in powerful learning, the students' learning experience is limited to what the teachers' are teaching.
Second, teacher training driven policies, like other policies, can take time and become expensive to implement (Warwick, & Reimers, 1991; Navarro & Verdisco, 2000). Other issues such as compensation, benefits, etc can even affect these policies. There is no evidence, to my knowledge, of a national teacher training policy associated with the improvement of students' outcomes. In fact, Navarro and Verdisco point out that "the equation for good quality teaching in education systems of massive scales throughout Latin America has yet to be solved," as some of the innovations remain in pilot programs.
Though, they recommend that the discussion should be done around cost-effective analysis, rather than just cost, when one is making decisions about teachers' training policies. Issues such as excessive cost, time of impact, lack of impact, and difficulty to scale, which become a matter of debate, and limit the initiatives that promote the use of technology in educational environments are also present in educational policies that promote teachers' training. Unfortunately, people continue to promote its implementation.
Student-owned technology, more than ICT in education
In 1980, Papert described, "how children who had learned how to program a computer could use very concrete computer models to think about thinking and to learn about learning and in doing so, enhance their powers as psychologists and as epistemologists" (Papert, 1980). This vision of the role of the computer as a tool to design, create, and share with others is significantly different from the vision of the computer as a medium to transfer information, therefore our goals differ. An important element that was not largely present at the time was the personal computer, either with computer terminals or within the environment of computer labs.
The most recent model of computer use in education, the one-to-one model, forces us to rethink education not only because students use technology in powerful ways, but also because it alleviates the lack of teacher experience and preparation, a bottleneck that limits the impact of technology in education.
El Silencio, a rural school in Costa Rica
In order to defend a research-based approach that integrates both students' leaning and student-owned technology (one to one model), I present the results of a research program done in a rural school in Costa Rica (Urrea, 2007).
The school is located in Microe, a small community in Costa Rica. El Silencio is a rural community of approximately 117 residents (45 families), located in Guanacaste, in the northwestern part of the Costa Rica. A total of 15 students from 12 families participated in the program: 3 in first grade, 3 in second grade, 5 in third grade, 1 in fourth grade, 2 in fifth grade, and 1 in sixth grade. 9 of those students were boys and 6 were girls. Every student from second to sixth grade received a laptop computer, and every student in first grade was assigned one of the desktop computers available at the school.
.
The work involved three important strategies:
student-owned technology that is used at school, at home, and in the broader community;
activities that are designed with sufficient scope to encourage appropriation of powerful ideas; and
teacher engagement in activity design with simultaneous support from a knowledge network of colleagues and mentors.
I introduced the concept of "whole-project" learning, which strategically integrates these three elements into a learning approach that is fundamentally different from the existing methodologies of teaching and learning used in Costa Rica. For example, students worked on the topic of "my community" and engaged in the design and building a map of the community using a logo-based environment called Microworlds, and a physical model at scale. While creating the physical model, students learned and explored about the powerful idea of scaling.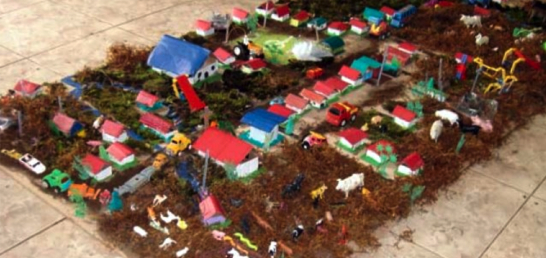 .
During the period of September 2005 through May 2006, I spent a considerable amount of time working together with the teacher, and the students to implement the different elements of the program. One of the most important outcomes of the work was the appropriation of new ways of learning by the students in an environment where they owned computational technology; they engaged in rich activities of a scale and quality that allowed them to make connections to powerful ideas.
For example:
Students gained a level of fluency with the technology that put them in a better position to learn what might be otherwise impossible, or at least more difficult, to learn in a traditional academic way.
Academic performance improved as students finished their primary school education. More students also enrolled in secondary school, in a town nearby. As of today, the first student has graduated from secondary school and is entering medical school. He was the first student who presented the national exams with high scores, particularly in math and sciences.
The teacher reported perfect attendance during the two semesters (fall 2005 and spring 2006) of the program and increased enrollment during the second academic year of the program. According to the teacher, one of the reasons that two new families moved to the community was to find a better educational opportunity for their children.
Home learning (Papert, 2006) complemented the school activities. A considerable amount of learning happened at home, as the students designed and created their own logo-based projects based on their interests and ideas.
Finally, students developed more sophisticated verbal and written skills. This was evident as they reflected and talked about their projects and their personal experience as learners.
The evidence presented through this research program informs us about the potential of the one-to-one learning environment to provide opportunities for students to engage in individual and collaborative rich learning. It tells us that ubiquitous access to technology at school and at home makes it possible for students to access resources; collaborate with their peers, teachers, and parents; become fluent with the technology; and reflect about their own learning process.
I am convinced that innovation can happen at the level of the school and individuals, but additional strategies need to be in place in order for the educational system to change as well. We may follow Fullan's recommendation to "develop our own individual capacities to learn and to keep on learning, and not to get the vicissitudes of change get us down" (Fullan, 1998). In addition, he points out, "This is also the route of system change." If more individuals –perhaps at the school, project, or the region level, act as learners; if they connect with people who have similar goals and interests; if they also debate and exchange the different views and context, perhaps then, the system will learn to change.
References
Blumenfeld, P., Fishman, B. J., Krajcik, J., Marx, R. W., & Soloway, E. (2000). Creating usable innovations in systemic reform: Scaling up technology-embedded project-based science in urban schools. Educational Psychologist, 35(3), 149–164.
Cuban, L. (1986). Teachers and machines: The classroom use of technology since 1920. New York: Teachers College Press.
Cuban, L. (2001). Oversold and underused: Computers in the classroom. Cambridge, MA: Harvard University Press.
Fullan, M. 1998. "The Meaning of Educational Change: A Quarter of a Century of Learning" in Hargreaves, A. et al. (eds), International Handbook of Educational Change. Great Britain. Kluwer Academic Publishers. Pp. 214-228.
Navarro, J.C. & Verdisco, A. (2000) Teacher Training in Latin America: Innovations and Trends. Sustainable Development Department Technical Paper Series.Inter-American Development Bank, Publications, Education Unit, 1300 New York Avenue, N.W., Washington, DC 20577
Papert, S. (1980). Mindstorms: Children, computers, and powerful ideas, Computers and Computers culture. New York: Basic Books. Pag. 23
Papert, S. (1996). The connected family: Bridging the digital generation gap. Marietta, GA: Longstreet Press.
Resnick, M., Maloney, J., Monroy-Hernandez, A., Rusk, N., Eastmond, E., Brennan, K., Millner, A., Rosenbaum, E., Silver, J., Silverman, B., & Kafai, Y. (2009). Scratch: Programming for All. Communications of the ACM, vol. 52, no. 11, pp. 60-67 (Nov. 2009).
Warwick, D. P. & Fernando, M. R. (1995). Teacher training: value added or money wasted? in Hope or Despair?: Learning in Pakistan's Primary Schools. Praeger Publishers: Westport, CT, pp. 43-62
Sheingold, K., & Hadley, M. (1990). Accomplished teachers: Integrating computers into classroom practice. New York: Center for Technology in Education, Bank Street College of Education.
Slavin, Robert E. (2002). Evidence-Based Education Policies: Transforming Educational Practice and Research. Educational Researcher, Vol. 31, No. 7 (Oct., 2002), pp. 15-21
Urrea, C. (2007). One to one connections: Building a community learning culture. Unpublished doctoral dissertation, MIT.