One Mouse Per Child: Simultaneous Participatory Educational Interaction
The use of multiple inputs has been studied by a number of researchers who have sought to demonstrate the effects when peers work with a single screen (Paek et al., 2004). A fundamental aspect that favors interactivity among the students, and particularly their level of motivation, is the fact that the activity makes each of the students work with their own objects; each student controls their own input device, which forces them to participate and become protagonists of their own learning (Infante et al 2009).
Experience and active participation in the educational process are two elements that have revolutionized the traditional concept of teaching and learning over the course of the 20th century. The writings of, Dewey, Vygotsky, Piaget and others have taken on renewed relevance for specialists attempting to explain and improve the quality of learning, with participatory interaction as the focal point for organizing the experiences of the participants in the learning process (Cooper et al., 1991).
Considering the importance when teaching math, of establishing bases for knowledge to arrive at learning more complex operations, we must make sure that all students acquire said bases. If the work is too easy or too difficult, students won't get involved, and learning math will be a constant struggle throughout their entire education. With an entire class, where each student is different, teaching with consideration of individual rhythms can be a great challenge, however, it is crucial that each student feel constantly challenged in order to achieve success, considering gradual rhythms in each task, before he becomes frustrated, and abandons the challenge. (Sangster, 2006)
One Mouse Per Child
One Mouse per Child is oriented towards working simultaneously with an entire class using an interpersonal computer. In our case, this consists of a PC, a projector, and a mouse for each child participating in the activity. Experimentally we observed in a classroom that on a 1024 X 768 pixel projection, on a conventional 1,5 mt. x 1,5 mt. screen, up to 49 children could adequately work simultaneously in a classroom.
Each student must solve a series of exercises, which are generated according to the child performance through a set of pedagogical rules incorporated into the system. In the learning process the teacher has an active mediating role. A teacher (personal) mouse enables to directly intervene with each of the students' learning process, according to what the teacher considers to be pedagogically convenient.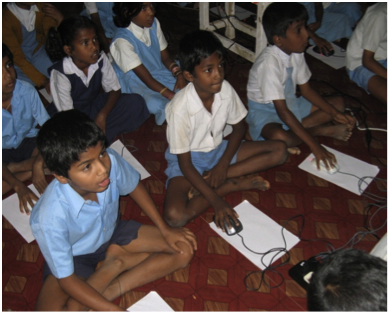 .
Our first experience was designed to support the teaching of arithmetic in the classroom (Nussbaum et al, 2010). The 65 rules that conforms the system are aligned with the math contents set out by Chile's Ministry of Education for grades 1 to 4. Each child is shown an equation according to the teacher's specifications, or consequent to his/her level, which in turn corresponds to a specific pedagogic rule.
The child must solve said equation and enter the answer in the specified zone. If the answer is correct, a new equation will appear, according to the pedagogic rule system; if it is incorrect, the equation will remain until the child solves it correctly according to the corresponding rule.
Classroom Usage Results
We have performed two exploratory studies. One was in a Santiago de Chile in a state-subsidized school placed in a low-income neighborhood, in a 3rd grade of 43 students (boys and girls, ranging between the ages of 8 and 10). Seven 30-minute sessions were carried out, twice a week.
We observed that there was a significant positive difference between the application of the test before and after the intervention, achieving a large effect size. To analyze the impact of the experience according to the children's abilities, we divided the sample into the superior and inferior half, according to their results on the initial test and observed a significant improvement in the students with the lowest initial results, with a large effect size, concluding that the software proved most beneficial for the students with the lowest initial results.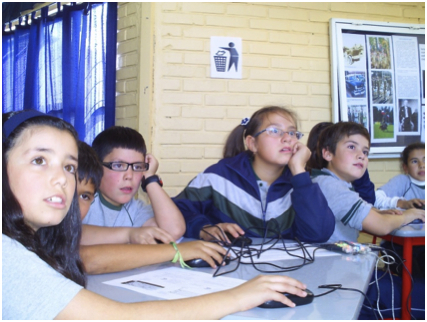 .
This happens because the system adapts to the students' needs, reinforcing the content they most need to work on, thus generating a personalized learning process, adapted to the needs of each student.
A second study was a multicultural experience where the aim was not to measure the pedagogic value of the system, but to prove whether students could adequately use the technology, regardless of differences in knowledge and technological abilities for students from such distanced socioeconomic realities as Chile and India. In relation to use efficiency, in Chile minimal problems in understanding on how to use the technology were observed, while in India, many of the students had never used a mouse before, and couldn't handle it properly in the beginning.
Regarding learnability, the average of correct answers during the experience, in India, between the first and second sessions increased considerably (from 0.59 to 5.00 (average of correct answers per session)), stabilizing itself from then on, while in Chile there wasn't a significant increase (7.05 to 7.6300 (average of correct answers per session)), which indicates that students had little technological difficulty at the beginning, reaching a quick balance when faced with the difficulty of the mathematical exercise.
Its Pedagogy not Technology
Our one Mouse per Child approach is curriculum oriented in the sense that one application covers Arithnmetics', a second Fractions', and a third, we are working on, focused on Reading/Writing. We are now also working on integrating it into Power Point. It has a different pedagogical approach than Mischief (Moraveji et al 2009), characterized by a collective feedback; in ours, feedback is individual since we manage the identity of each child.
This allows us to have N simultaneous Intelligent Tutoring Systems, where each child advances at their own pace in a lecture and within lectures (through persistence between lectures). While in Mischief reports are focused on the classroom behavior, our approach is additionally student oriented, also providing the teacher with tools to mediate the different kids that need it.
This experience showed us that it is possible to implement personal interactivity with teacher support through minimal equipment, i.e., a computer, a projector, and one mouse per student, in very diverse socio-economic conditions. If we take into consideration that this equipment is used daily by the students around an hour, that up to 10 different groups can share it per day, and that the equipment has a useful life of at least two years, the cost per student –considering a class of 49 – is roughly one dollar per student per year.
The aim of this extended abstract was to show how low cost technology can change the classroom practice allowing all students participate simultaneously at their own pace. We have to understand that the benefits of technology can be realized only through an effective learning and teaching strategy. Our main conclusion is that the problem to focus on is not a technological one but a pedagogical one.
Miguel Nussbaum is a Professor in the School of Engineering, Computer Science Department, at Pontificia Universidad Católica de Chile
References
Cooper, J., & Others, A. (1991). Cooperative/Collaborative Learning: Research and Practice (Primarily) at the Collegiate Level, Parts I and II. Journal of Staff, Program, & Organization Development, 79(34), pp 143-148 and pp 239-252.
Cristián Infante, Juan Weitz, Tomás Reyes, Miguel Nussbaum, Florencia Gómez and Darinka Radovic (2010), Co-located Collaborative Learning Video Game with Single Display Groupware, Interactive Learning Environments, Vol. 18, No. 2, June 2010, pp 177–195
Moraveji, N., Inkpen, K., Cutrell, E., and Balakrishnan, R. (2009). A mischief of mice: examining children's performance in single display groupware systems with 1 to 32 mice. In Proceedings of the 27th international Conference on Human Factors in Computing Systems (Boston, MA, USA, April 04 – 09, 2009). CHI '09. ACM, New York, NY, 2157-2166.
M Nussbaum, C. Alcoholado, A. Tagle, F. Gomez, F. Denardin, H. Susaeta, M. Villalta, K. Toyama (2010), One Mouse per Child: Interpersonal Computer for Personal Formative Assessment, Submitted to Computers and Education
Paek, T., Agrawala, M., Basu, S., Drucker, S., Kristjansson, T., Logan, R., Toyama, K., and Wilson, A. 2004. Toward universal mobile interaction for shared displays. In Proceedings of the 2004 ACM Conference on Computer Supported Cooperative Work (Chicago, Illinois, USA, November 06 – 10, 2004). CSCW '04. ACM, New York, NY, pp. 266-269.
.