TeacherMate: Individualized, Teacher-Assisted Instruction
For the past twenty years Innovations for Learning, a Chicago-based nonprofit, has been passionately committed to two ideas:
effective education requires individualized instruction
technology can greatly assist teachers in individualizing instruction.
These ideas have led to this singular goal: create an effective system of individualized instruction that is affordable, replicable and scalable. In our attempts to accomplish this goal, we have focused on several key principles:
Focus on supporting the teacher in the classroom.
We can all point to many culprits for why children do not learn (parents, schools, society, lack of after-school programs, etc) but in the end of the day it is the teacher in the classroom that should have the primary responsibility for educating the students, and all efforts should revolve around supporting the teacher.
Furthermore, all of us technologists would be greatly served by humility about the potential of technology. Artificial intelligence is getting ever more powerful, but it still pales in comparison to human intelligence, empathy and creativity.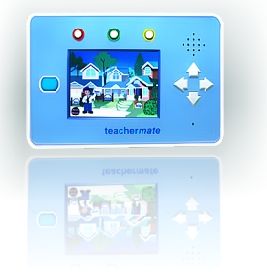 Our TeacherMate handheld computer system is designed to support the teacher. Even the name itself was chosen purposefully. Although the handheld devices are used by students, the units are just one component of a larger system to support teachers.
Support the existing curriculum.
We have made the effort to analyze the scope and sequence of all of the major reading and math basals, which allows teachers to easily coordinate activities on the TeacherMates to their paper-based curriculum.
Add no burden.
This should be the educational technologists credo akin to doctors "do no harm". The failure of almost all educational technology initiatives can usually be traced to the additional burden placed on the teacher. Ideally, teachers' burdens should be reduced by technology.
We believe we have achieved this not by one bold move, but rather by attention to a myriad of details. The art of a learning management system is to provide advanced users with powerful options and customizability, while offering a neophyte user a clean and simple interface.
Synching of devices needs to be automatic. And since all technology fails at various times, a system of workarounds that do not interrupt a teacher's instruction is critical to success.
Affordability means dirt cheap.
Multiply anything by the number of students needed to be served, and costs soar quickly. We would be delighted to add a touch screen to our device, but we can create effective technology without it that enables more students to be served with the same budget.
Avoid reliance on major grants.
Governmental, foundation and other grants are manna from heaven, but you can't rely on them to scale a sustainable project.
Start small.
Given the myriad of failures of ICT in education, it is imperative to do one thing well first, and then build on success. We are focused on K-2 basic education. And after twenty years, we still don't have even this licked, imagine that.
Seth Weinberger is the Executive Director of Innovations for Learning
.