Let's Get Informal: Mobile Phones for Adult Basic Education in West Africa
There has been a heavy bias toward funding primary and formal education for young people in Africa, while adult education has been largely ignored. Adult literacy programs in West Africa have been called ineffective over the long run, short-lived, and largely impractical. As a result, there has been a marked reduction in the World Bank's financial support of adult literacy programs since 1990. Yet there is a great need. Fewer that 30 percent of all adults in Niger are literate; literacy rates among women are nearer to half of that percentage (Pearce, 2009).
Enter a new breed of technology. Niger has the second highest compound annual growth rate of mobile phone use in West Africa, and the fourth highest in Africa (83 percent over 5 years). While there is little evidence of mobiles being used as the ICT of choice in formal education systems in West Africa, mobile technology is being used in early trials for literacy in adult non-formal education.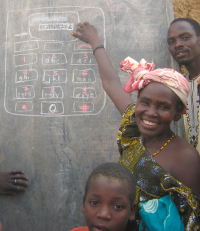 Project ABC Mobile Phone Adult Literacy Program
Catholic Relief Service (CRS), in partnership with UC Davis, Tufts, and Oxford University has completed the initial phase of a pilot that shows how SMS can turn mobile phones into a platform for adult literacy and market information for agricultural communities. Planning for the pilot began in 2007/2008, and at the end of 2010, it will have run for 2 years.
Projet d'Alphabetisation a Base Cellulaire, or ABC, works with non-formal education centers established by the CRS Niger Food Security and Nutrition Program (2007-2011), is funded by USAID/Food for Peace, and is implemented with Care and Helen Keller International. The project uses multimedia phones that have been programmed with a digital curriculum in the local languages of Hausa and Zarma, and incorporates a practical literacy component tied to obtaining market information via text message.
The Project ABC literacy curriculum is taught by local facilitators trained by the Ministry of Education in Niger, and has two components. The first part of the program, developed by the Ministry, involves basic functional literacy. The second part of the program, taught by CRS team members with the aid of a multimedia phone and digital curriculum, is being studied by CRS in the Project ABC pilot. Learners also use more basic phones, commonly available, to practice literacy and numeracy skills via SMS. Lessons take place for three hours a day from May through June. The ratio of learners per teacher is 25:1. Practice work with multimedia phones takes place in groups of 5 learners.
In the first year of ABC, participants learn basic cell phone technology, including SMS. In the second year, interactive multimedia phones and a digital curriculum that includes phonetic activities and varied texts are used to further develop literacy skills. Participants also use skills in literacy, numeracy, and basic cell phone technology in a companion program that teaches them how to request and retrieve market information via SMS.
The SMS communication system used in the project, IMAC (Information from Agricultural Markets by Cell Phone), is based on FrontlineSMS software. The system allows participants to access current market information, which is collected by CRS in partnership with a Nigerian NGO, SIMA (Agricultural Information Market Systems). SIMA-trained CRS agents are also able to update crop prices by sending a formatted SMS. In the long term, CRS is studying the use of the IMAC system to determine its impact on the income of agricultural producers.
The program is operational in 56 literacy centers in the rural regions of Dosso and Zinder, in primarily agricultural villages. As is the case in most rural settings in West Africa, local language reading materials are otherwise scarce. Participants in the program include 1,400 learners, half of whom are women (Isbrandt, 2009).
Preliminary results from a randomized evaluation of Project ABC indicate that mobile phones have had an impact on participants' literacy skills, and the model could be sustainable in the long run.
Overall, students demonstrated substantial improvements in literacy and numeracy test scores, suggesting that the adult literacy curriculum is effective in increasing learning. Students in ABC (mobile phone literacy) villages showed substantial additional gains in numeracy exam scores, but we cannot rule out that there are no effects on literacy in the full sample. There is evidence of heterogeneity in program effects across regions, suggesting the impact is stronger in a relatively more densely populated region. Furthermore, both literacy and numeracy effects are stronger and statistically significant for younger populations.

There is also evidence of persistent impacts: six months after the end of the first year of classes, students in ABC villages retained what they had learned better than the non-ABC students. These effects do not appear to be driven by differences in teacher quality or in teacher and student attendance. These results suggest that simple and relatively cheap information and communication technology can serve as an effective and sustainable learning tool for rural populations.
Challenges in implementing the program include poor cell phone coverage, and the non-intuitive nature of communication by SMS. It is likely that other challenges will include the costs of communication and of the multimedia phones. One of the dangers of incorporating cell phones into a project model is that more often than not, the costs associated with using a phone to communicate compete with other basic needs in rural Sub-Saharan Africa.
References
Jenny C. Aker, Tufts, Christopher Ksoll, Oxford ; Travis Lybbert, UC Davis (2010) ABC, 123: Can you Text me Now? Presented at the Centre for the Study of African Economics (CSAE) Conference, St Catherine's College, Oxford. March 2010. Retrieved September 1, 2010.
Donner, Jonathan (2009), Research Approaches to Mobile Use in the Developing World: A Review of the Literature, in The Information Society, vol. 24, no. 3, pp. 140-159, 2008. Retrieved September 1, 2010.
Ford, Merryl; Botha, Adele (2009) MobileLed – Mobile-Led and Leading Via Mobile. IST Africa 2009 Conference Proceedings. Meraka Institute, CSIR; University of Pretoria, South Africa.Kampala, Uganda Retrieved August 28, 2009.
Isbrandt, Scott (2009) Cell Phone in West Africa: Improving Literacy and Agricultural Market Systems. Retrieved September 1, 2010.
Pearce, C. (2009). From Closed Books to Open Doors – West Africa's Literacy Challenge. ANCEFA, Pamoja West Africa, African Platform for Adult Education, Oxfam International andActionAid. Retrieved September 1, 2010.
Traore, D., Moody, G. B., Diouf, A. M. I., & Camara, E. H. H. (2009). Panafrican Project on the
Integration of ICT's in Education: Phase 1 national reports PanAF, ERNWACA. Retrieved October 16, 2009.