SMS4Learning: Supporting healthcare providers through FrontlineSMS:Learn
Jhpiego enhances the health and saves the lives of women and families in limited-resource settings. For nearly four decades, we have put evidence-based health innovations into everyday practice to overcome barriers to high-quality health care services for the world's most vulnerable populations. As leaders in developing and implementing competency-based solutions for human capacity development, it is our aim to develop healthcare workers who are capable of providing safe, high quality care and ultimately guide them along the learning path to proficiency.
For the last two years, my colleagues in Afghanistan have been using text messages to reinforce key learning objectives from training, increase the adoption of newly developed skills and behaviors, and encourage the completion of post-workshop action plans (a presentation on the initiative).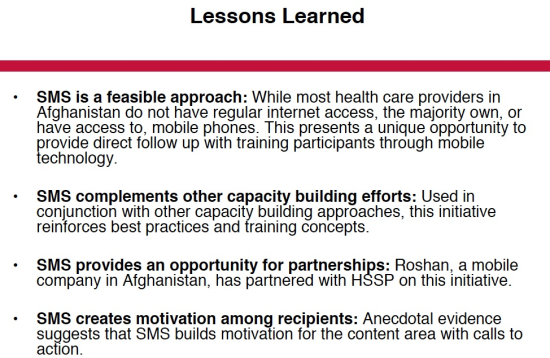 .
Given the promising results of these efforts, we are beginning to implement this approach in new countries and programs. In addition, over the next year we will be developing new free and open source software tools to enable the replication and expansion of this type of intervention.
Why SMS4Learning?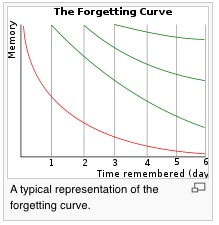 It is a fact that without reinforcement or the opportunity to practice, newly developed competencies will begin to degrade immediately and can do so markedly over time (see the classic work of Hermann Ebbinghaus on the Forgetting Curve). So the challenge is: how can we ensure that these knowledge, skills and attitudes are maintained and put into practice once a healthcare worker leaves a training event and returns to their facility?
At this most fragile point in the learning process, what sort of support can we provide? While routine follow-up visits and supportive supervision activities both can address this challenge, these contacts with providers do not begin immediately and they are spread out over several weeks and months leaving periods of time where forgetting is possible and probable.
By leveraging the mobile phones already in the hands of providers we can reach out to them during the critical time immediately after training as well as during the gaps between in-person visits. Following the same best-practice instructional design techniques we use to develop other learning materials, simple but well-crafted and targeted text messages can be created that support and reinforce learning objectives from training as well as the performance indicators used in the quality assurance process.
And if those messages take the form of a question, competency maintenance and retention can be directly measured and used to inform and make more effective and efficient the follow-up, support supervision and refresher training that is provided.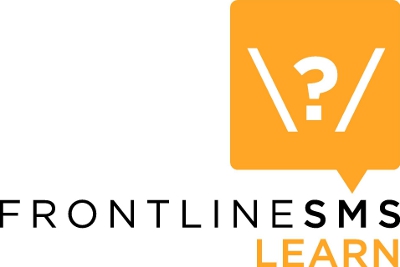 .
FrontlineSMS:Learn, a module for education and training
To date, our work using SMS in Afghanistan to support training has been carried out in close coordination with the mobile operator Roshan who has provided the technology required to deliver the messages. Since first learning about the initiative, I have been closely monitoring technology developments, looking for software that could be used or adapted to provide similar functionality without requiring the help of a mobile provider or a significant level of ICT expertise. As a capacity building organization, we are interested in empowering trainers and faculty directly with tools they can use themselves to improve the learning process.
Along with our partners on the USAID-funded SHOPS program (in particular, Abt Associates and Marie Stopes International) we have begun an initiative to develop and pilot FrontlineSMS:Learn, a module that will plug into FrontlineSMS. This new module will extend the functionality of the core FrontlineSMS platform allowing one to easily manage and target messages to individuals, create and monitor assessments with automated remediation, and link individuals directly with one another in communities of learning to facilitate peer-to-peer support.
This project is currently in its very beginning stages and is scheduled to run through the summer of 2011. By that time we plan to have a public beta version of FrontlineSMS:Learn available for download. And in addition to developing the software, through our pilot implementation we also plan to generate evidence of the effects of the SMS4Learning intervention on competency maintenance and on-the-job performance so we can answer the inevitable question, "So what?"