Oscar Becerra on OLPC Peru's Long-Term Impact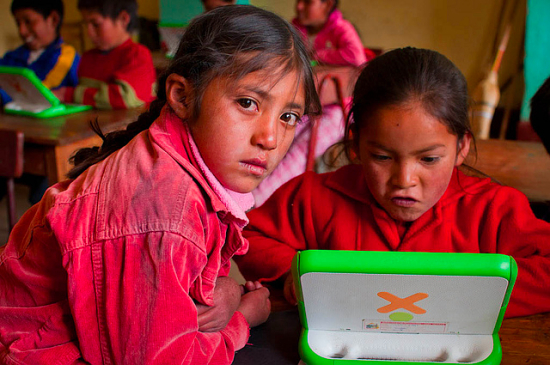 Thanks for the opportunity to discuss OLPC again. I am not unbiased since I was responsible for the design and implementation of "Una Laptop por Niño" but I think my contribution may illustrate some of the points described in the article. To begin I would like to point out the reality upon which "Una Laptop por Niño" was developed.
In January, 2007 a census evaluation applied to 180,000 Peruvian teachers showed 62% of them not reaching reading comprehension levels compatible with elementary school (PISA level 3) 27% performed at level 0 or less. 92% of the teachers evaluated did not reach acceptable (6th grade level) performance in Math. After 200 hours remedial education in reading comprehension still about 15% stayed at level 0. It was clear to us the main challenge for our project would not be "teacher training" on how to use computers in the classroom because most of our teachers needed exceedingly much more than ICT literacy courses.
Public schools did not receive any maintenance for years, most of the largest schools known as "emblemáticos" that were built in the 1950's had not been subject of any maintenance and were literally falling apart. One of them, with a capacity for almost 5,000 students had less than 2,500 because anyone who could run away from public education would do so. About four thousand schools (5% the number of schools but about 30% the Public school student population) had connectivity but very few of our target schools were connected because of their remote location.
Almost 200,000 students in Peru attend about 10,000 "one-teacher primary (1-6) schools" where one teacher has to teach first to sixth graders in the same classroom. It was these schools we decided to serve first. The rationale behind such apparently "doomed to failure" decision was:
The poorest and most remote schools are the most difficult to serve and therefore usually left for the last stages which seldom really happen.
Any widespread effort to improve quality of education should aim to reduce the gap between the poorest and the less poor.
The hopelessness plaguing children in extreme poverty areas had to be confronted. Access to technology is not a panacea but could certainly contribute to help children feel empowered.
It is widely recognized children have a natural trend to learn how to use technology.
Wealthy schools don't question if their students should have access to technology. Why should the poorer? We saw the project as a way to reduce the digital divide.
Our justification was evident enough for the Congress to pass a law approving the program, surprisingly without a single opposing vote in spite of the diversity of congresspersons.
Going to the four questions:
1. Do any ICT interventions have impact? Or are we all just wasting our time with technology?
All interventions, not only ICT interventions have impact. The problem is to figure out what the impact is and if it is good or bad. In the case of ICT, as the IDB report wisely points out, the effect is neither magic nor fast. What is surprising is how many apparently sensible people expect magic fast results and are ready to criticize the effort made after such a short time.
An educational system in such poor shape as the Peruvian will take, in my opinion 10-15 years, just to improve the quality of its teachers. Something needed to be done in the meantime. We thought giving children access to a technology designed as a tool to learn with, was a step in the right direction. I don't think time is wasted with technology, however it is not measuring how much more Math or History have children learned in the traditional way that we will see the impact.
2. Do we actually know how to measure the impact of ICT on education? Or are we testing the wrong things to see impact?
I think "those who have a hammer see everything as a nail" is a proper way to describe the ways many evaluations are done or, even worse, looked at. In the case of the IDB study, having participated in the design and first stages I can assure the study was very well thought. However, as soon as the initial findings were reported, every interested party tried to "llevar agua para su molino" (bring water to its mill).
For example, I heard many advocates of the ICT industry (the main detractor of the OLPC approach because it impacted its market share numbers) use the results to say the project was a failure and their approach should have been used. There were no impacts in cognitive results because, as we knew from the beginning, no results could be reasonably expected so soon.
We were not (I should say they) testing the wrong things, not only the cognitive abilities were measured, but also the attitudes and expectations of students parents and teachers which actually showed improvement. Students became more critical of the schools system and expected more of it. That is an important outcome that will certainly impact the quality for the system in the long term.
3. Can any single intervention have impact? Or do we need to have more interventions over longer timeframes for impact?
Any single intervention will have probably limited impact. It is a combination of interventions that will have long-term effects. In our case we knew several articulated actions were needed and they would all take long times. Some of the things we did were:
a multimillion dollar remedial education effort aimed to improve teacher quality through in-service training in reading comprehension and math;
tougher requirements to enter higher education institutions to become teachers (just those dependent of the Ministry of Education because universities are autonomous);
a new career path for teachers based on merit and performance tied to improved salaries;
an articulated common curriculum for K-11;
diffusion of school expected outcomes from K to 11 among parents in order to involve them in the quality improvement efforts;
national census evaluation of students and diffusion of results among stakeholders (teachers, principals and parents);
infrastructure improvement and new equipment for the largest schools (flagship schools);
a school maintenance program that assigned about $500 per classroom directly to principals for minor maintenance tasks at all public schools countrywide.
Most of the efforts will have long timeframes. The problem is the vicious tradition among politicians to stop everything done by their predecessors and trying to begin everything anew. We tried to resist the tradition and maintained most of what we found that we thought was in the right direction. Una Laptop por Niño was built on the foundation set by Huascarán project. Our Educational Resource Center concept evolved from the Pedagogy Innovation Classrooms and the Robotics in elementary school program was designed to capitalize on the original ideas proposed by the MoE team back in 1996.
4. Are all laptop programs doomed? Or was Peru's approach itself the problem?
I don't think laptop programs are doomed, I did a study of impact of the program on intrinsic motivation towards school work and the results confirmed all the hypothesis. Students feel better and their readiness to work hard to learn things they think are important improves significantly more for participants in "Una Laptop por Niño" than for those who did not participate.