Technology and Child Development: Evidence from One Laptop per Child Program in Peru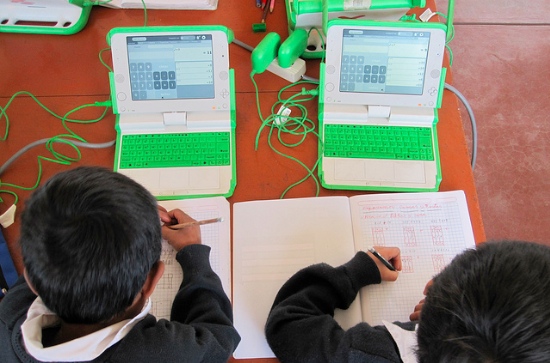 The One Laptop per Child (OLPC) program aims to improve learning in the poorest regions of the world though providing laptops to children for use at school and home. Since its start, the program has been implemented in 36 countries and more than two million laptops have been distributed.
The investments entailed are significant given that each laptop costs around $200, compared with $48 spent yearly per primary student in low-income countries and $555 in middle-income countries (Glewwe and Kremer, 2006). Nonetheless, there is little solid evidence regarding the effectiveness of this program.
Technology and Child Development: Evidence from the One Laptop per Child Program presents results from the first large-scale randomized evaluation of OLPC. The study sample includes 319 public schools in small, poor communities in rural Peru, the world's leading country in terms of scale of implementation. Extensive data collected after about 15 months of implementation are used to test whether increased computer access affected human capital accumulation.
The main study outcomes include academic achievement in Math and Language and cognitive skills as measured by Raven's Progressive Matrices, a verbal fluency test and a Coding test. The Ravens are aimed at measuring non-verbal abstract reasoning, the verbal fluency test intends to capture language functions and the Coding test measures processing speed and working memory.
Exploring impacts on cognitive skills is motivated by the empirical evidence suggesting that computer use can increase performance in cognitive tests and the strong documented link among scores in these tests and important later outcomes such as school achievement and job performance (Maynard, Subrahmanyam and Greenfied, 2005; Malamud and Pop-Eleches, 2011; Neisser et al., 1996). Additionally, the software loaded on the laptops contains games and applications not directly aligned with Math and Language but that potentially could produce improvements in general cognitive skills.
Our results indicate that the program dramatically increased access to computers. There were 1.18 computers per student in the treatment group, compared with 0.12 in control schools at follow-up. This massive rise in access explains substantial differences in use. Eighty-two percent of treatment students reported using a computer at school in the previous week compared with 26 percent in the control group. Effects on home computer use are also large: 42 percent of treatment students report using a computer at home in the previous week versus 4 percent in the control group.
The majority of treatment students showed general competence in operating the laptops in tasks related to operating core applications (for example, a word processor) and searching for information on the computer. Internet use was limited because hardly any schools in the study sample had access. Turning to educational outcomes, we find no evidence that the program increased learning in Math or Language. The estimated effect on the average Math and Language score is 0.003 standard deviations, and the associated standard error is 0.055.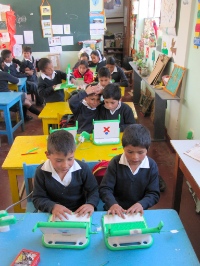 To explore this important result we analyze whether potential channels were at work. First, the time allocated to activities directly related to school does not seem to have changed. The program did not affect attendance or time allocated to doing homework. Second, it has been suggested that the introduction of computers increases motivation, but our results suggest otherwise – we do not find impacts on school enrollment.
Third, there is no evidence the program influenced reading habits. This is perhaps surprising given that the program substantially affected the availability of books to students. The laptops came loaded with 200 books, and only 26 percent of students in the control group had more than five books in their homes.
Finally, the program did not seem to have affected the quality of instruction in class. Information from computer logs indicates that a substantial share of laptop use was directed to activities that might have little effect on educational outcomes (word processing, calculator, games, music and recording sound and video). A parallel qualitative evaluation of the program suggests that the introduction of computers produced, at best, modest changes in pedagogical practices (Villarán, 2010). This may be explained by the lack of software in the laptops directly linked to Math and Language and the absence of clear instructions to teachers about which activities to use for specific curricular goals.
On the positive side, the results indicate some benefits on cognitive skills. In the three measured dimensions, students in the treatment group surpass those in the control group by between 0.09 and 0.13 standard deviations though the difference is only statistically significant at the 10 percent level for the Raven's Progressive Matrices test (p-value 0.055). Still, the effects are quantitatively large.
A back-of-the-envelope calculation suggests that the estimated impact on the verbal fluency measure represents the progression expected in six months for a child. The average sixth (second) grader in the control group obtains 15.9 (7.1) correct items on this test. Hence, assuming that the average child takes four years to progress from second to sixth grade, the annual average progression is about 2.2 items. The estimated impact is 1.1, hence it represents half a year of normal progression.
Similarly, the estimated impact for the Coding and Raven tests accounts for roughly the expected progression during five and four months, respectively. We summarize the effects on cognitive skills constructing a variable that averages the three mentioned tests. Results indicate an impact of 0.11 standard deviations in this measure that corresponds to the progression expected in five months (p-value 0.068).
Our results relate to two non-experimental studies that have used differences-in- differences strategies to assess the effects of OLPC on academic effects, finding conflicting results. Sharma (2012) estimates the effect of an NGO-conducted small pilot benefiting students in three grades in 26 schools in Nepal, finding no statistically significant effects in Math and negative effects in Language. Ferrando et al. (2011) explore the effects on 27 schools that participated in the OLPC program in Uruguay and find positive statistical effects on both Math and Language.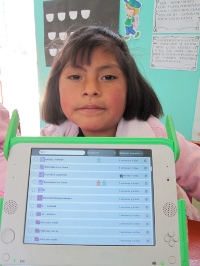 Our work also relates to a growing literature that uses credible identification strategies to assess the effects of computer use on human capital accumulation. A set of studies have analyzed the effects of public programs that increase computer access and related inputs in schools finding typically no impacts on Math and Language (Angrist and Lavy, 2002; Leuven et al., 2007; Machin, McNally and Silva, 2007; Barrera-Osorio and Linden, 2009).
A second group of studies has explored the effects of providing access to specially designed academic software to students and has documented in some cases, though not all, positive impact on Math and Language (Dynarsky et al., 2007; Banerjee et al., 2007; Linden 2008; Barrow, Markman and Rouse, 2009).
Recently, researchers have focused on the effects of home computer use, and the results have been mixed. Fairlie and London (2011) report positive effects on a summary of educational outcomes whereas Malamud and Pop-Eleches (2011) find negative effects on school grades but positive effects on the Raven's Progressive Matrices test.
Technology and Child Development: Evidence from the One Laptop per Child Program contributes to the literature on technology in education in several ways. First, we explore the effects of a program that intensively introduced computers at both schools and homes. The intervention was performed at the community level, allowing the incorporation of general equilibrium effects that prior studies could not identify. General equilibrium effects may arise if effects for individual students change as the percentage of their peers that are beneficiaries increases.
Second, we analyze this increased access in an ideal setting composed of many isolated communities with low baseline access to technology. The communities' isolation precludes potential spill-over effects across study units that could contaminate the design. The low levels of baseline technology diffusion allow the intervention to produce substantial changes in both access to and use of computers.
Third, we obtain clean evidence from a large-scale randomized controlled trial involving thousands of students in 319 schools. Fourth, we not only measure the effect on academic achievement but also analyze the impact on cognitive skills and exploit computer logs to elicit objective data regarding how computers were used. Finally, our findings on the effects of the OLPC program in Peru contribute to filling the existing empirical vacuum concerning one of the most important and well-known initiatives in this area.
The remainder of the paper is organized as follows. Section 2 provides an overview of the education sector in Peru, the OLPC program and its implementation in Peru. Section 3 describes the research design, econometric models and data and documents the high balance and compliance of the experiment. Section 4 presents the main results and Section 5 explores heterogeneous effects. Section 6 offers a discussion of the main findings, and Section 7 concludes.
Download Technology and Child Development: Evidence from the One Laptop per Child Program