ABCs and ICTs: Delivering Scale and Value with a Whole Class Learning Solution
Jim Teicher and Sarah Nehrling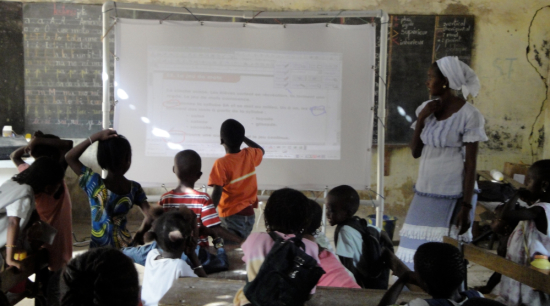 D is for desktop. L is for laptop. M is for mobile. E is for expensive!
For the time being, traditional technologies are too expensive and complicated to implement in scale, while also allowing sufficient funding for teacher training and learning materials development.
Desktops in school computer rooms require a dedicated, secure classroom that would otherwise serve as an instructional space in an often-overcrowded school. The opportunity cost associated with losing an instructional space alone, is incalculable.  Some initiatives adopt a "mobile lab" approach, where they introduce laptops – or increasingly, tablets – to provide students with 1:1 instruction, without losing instructional space. 
Another approach is mobile phone technology.  Nokia recently announced a Linux-based smartphone for $100, and there have been announcements about Google-powered Android smartphones, also priced in the $100 range.
Yet, the challenges with all three approaches remain more or less the same. First, there may never been enough computers and smartphones available (at least not in the foreseeable future) to adequately serve every student. Second, assuring the necessary maintenance of equipment, networks, and access to reliable electricity is a particularly expensive proposition when a nation considers equipping the majority of its schools.
And finally, the responsibility placed on the individual teacher to effectively integrate technology into instruction is immense. He must be trained to facilitate use of high-quality software, facilitate student use, troubleshoot technical issues during facilitation, and monitor individual and collective student progress in order to achieve measurable goals – in addition to his regular teaching responsibilities!
For technology that relies on the delivery of web-based content, there are even greater risks for abandoning use of computers altogether if the network is not fast or reliable enough, or if the cost is prohibitive over a longer period.
Providing a whole-class learning solution to reach more schools
In partnership with USAID/Senegal and Columbia University's Earth Institute, CyberSmart Africa has introduced a whole-class learning solution that integrates the use of a specially adapted interactive whiteboard directly into classroom instruction. We started the program in 2010 and now operate in three primary schools and six middle schools. The objective is to focus on learning, as teachers facilitate an active, student-centered classroom that integrates the use of digital resources in support of all core academic subjects.
The whole class learns together as an interactive whiteboard moves between classrooms, impacting hundreds of students during a single school day. More than a dozen students will actually use the interactive whiteboard during a single class session, while all students become active learners as they benefit from the experience of observing and influencing their peers' work at the board.
Implementation is simplified and the Total Cost of Ownership is low compared to laptop and school computer room initiatives because there is less equipment to be maintained and managed; and there are minimal installation costs because all of the equipment is portable. Resources are primarily directed toward ongoing teacher training, the single investment in education that is most closely associated with student success.
Many of the classrooms in our partner schools have rusted ceilings, and some lack electricity. Power is supplied with a solar-charged battery that moves between classrooms along with the equipment. The technology consists primarily of a lightweight screen manufactured in-country, a netbook, a low-power video projector, and an interactive "controller" that enables the touch-screen capability. Users interact with the computer – opening files, playing games, searching for content – by touching the screen with a special infrared pen that acts like a mouse.
All the necessary software to run the applications resides in the stand-alone netbook, and Internet connectivity is optional. The equipment is easily moved between classrooms, over sand and sometimes even through the village to an off-site space, and can be completely set up in under ten minutes.
In contrast to using a regular video projector, the teacher and students are not glued to a computer keyboard – which will most likely be controlled by the teacher – in order to manipulate desktop content on an interactive whiteboard. Lessons are purposely designed to be participatory, and viewable by the whole class so that students are more engaged in the learning process. Interactive whiteboard software also makes use of a suite of "blackboard-like" annotation tools – underlining, circling, coloring – among other capabilities.
Success requires a "toolbox" consisting of ongoing training, content, and support
As ICT has become central to the USAID Education Strategy (February 2011), it is essential to keep in mind that ICT use in schools will accomplish very little if not integrated within a toolbox full of supporting educational content, ongoing teacher training and support, and a context that nurtures evolving teaching and learning styles.
Our work at CyberSmart Africa has been motivated by the unfortunate reality of too many education initiatives who introduce ICT simply for ICT's sake, and whose budget and program activities go to supporting only the use of the provided equipment. Our approach extends directly into the pedagogical implications of ICT; the bulk of our activities support the ongoing teacher training necessary to successfully integrate ICT to improve the quality of instruction, and thus impact student learning.
A Focus on Professional Development including use of SMS
Through our ongoing professional development activities, we support the teachers in a shift toward learner-centered strategies. The teachers gradually move away from the traditional lecture-style approach and become facilitators of the learning process.
As part of our teacher professional development activities, we nurture professional learning communities where teachers support one another and create their own technology-integrated lessons. With ongoing teacher-to-teacher support, the content shared in the classroom is guaranteed to align with the Senegalese national curriculum, as well as the teacher's personal instructional objectives.
Relying again on simple, available, and affordable technology, CyberSmart Africa uses SMS to extend our professional development. Every Monday, teachers receive by SMS a  "Weekly Challenge" exercise, a follow-up on themes introduced during face-to-face meetings and classroom observations.
The challenge may simply require a response to a question, such as "What software did you use the previous week?". Other challenges may be task-oriented, such as "Co-facilitate a technology-integrated lesson with a colleague this week." The challenges are designed to both provide direction, and encourage teachers to put their learning into practice. We have found that the challenges are motivating and fun, while also providing CyberSmart Africa with valuable feedback concerning the level of teacher participation.
Teaching reading in support of the USAID Education Strategy
The USAID Education Strategy (2011) intends to leverage ICT to improve reading in primary grades; and we observe that the possibilities to use the interactive whiteboard for reading instruction are seemingly endless. It provides a way to accommodate for different learning styles, as students not only write on the interactive whiteboard, but also read, speak, listen, and even manipulate otherwise static content.
As part of CyberSmart Africa's Senegal implementation, for example, we have created the framework for a word magnet exercise, where students form sentences by dragging disassociated words, and sometimes images, from one part of the screen to the other. This creative learning exercise sharpens students' ability to think critically, as they learn sentence construction and vocabulary.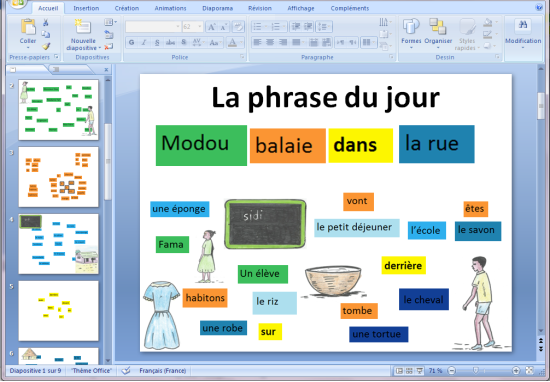 With an interactive whiteboard in their classrooms, teachers and their students are not limited to the static content of their textbooks – often in short supply – nor are they obligated to search very far for content presented in different formats – audio, visual, and text. In an effort to produce appropriate localized reading materials, CyberSmart Africa has collaborated with teachers to create various talking books that integrate different learning modalities.
With each talking book, students are able to listen to the story, read the text themselves, participate in discussions based on the pictures, annotate the story directly on the interactive whiteboard screen, and more. These stories can be shared among teachers, and enriched and shared again. They present a unique learning opportunity for students who otherwise have little, if any regular exposure to a variety of reading materials.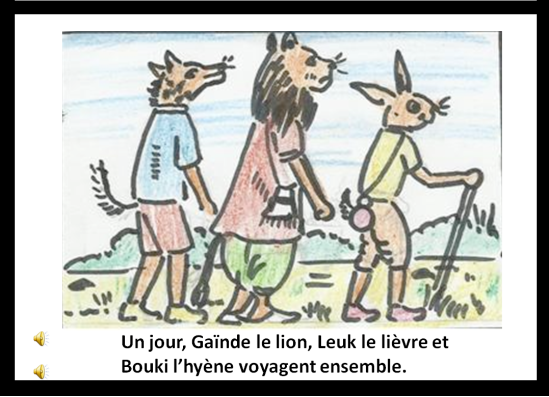 Learning to read does, of course, require practice and ongoing support beyond the classroom. Still, the classroom is, and will be for the foreseeable future, the place where students learn to read. When teachers facilitate technology-integrated lessons directly in the classroom, they can draw from engaging content originating from teachers, the community, packaged software, and other sources globally.
Conclusion
Although use of an interactive whiteboard by no means represents a complete solution for reading improvement, our experience in Senegal indicates that teachers and students enthusiastically embrace use of the interactive whiteboard for active, whole class learning. The approach impacts large numbers of students with minimal equipment, and has the potential to scale because the Total Cost of Ownership is low. Still, it is important to emphasize that teachers need ongoing professional development in order to prepare high quality technology-integrated lessons, and to facilitate an active, learner-centered classroom. With the appropriate support, use of an interactive whiteboard holds tremendous potential to shape the classroom learning environment in Sub Saharan Africa, and globally.