Improving Reading Skills Through Personalizing Literacy Instruction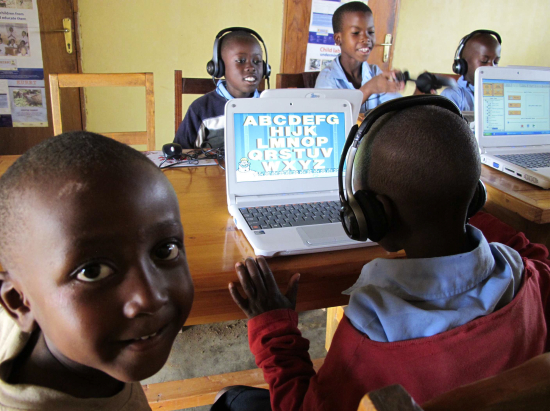 One of the great struggles of education is providing all children the individualized instruction they need to understand the material taught and to be challenged at their level, especially when teaching children to read and improve their reading skills.
In an ideal environment, the teacher would be able to provide each student personal attention and help each student overcome struggles, master skills, and receive challenges where needed. But with so many demands on a teacher's time, many children do not receive much personalized instruction.
One of the many educational benefits that information and communications technology (ICT) can deliver is an effective and scalable solution to this problem—the problem of personalizing literacy instruction for children.  Technology can adapt researched, effective teaching models, content, and assessment to individual students and extend them geographically to reach millions of children who might not otherwise have the opportunity to get high-quality instruction.
Because many factors contribute to a child's learning opportunity upon entering school—e.g. his or her home environment, quality of instruction in the class, availability of effective materials, student to teacher ratios—individualized instruction with high-quality adaptive materials is important to a child's progress and improvement in reading. Whereas one child may understand phonics and letter concepts, another child may struggle. The struggling child cannot move on until his or her obstacles have been addressed and overcome. But in a class size of 45-plus students, a teacher has little time to devote to individualized attention for each student.  Consequently, many children in developing countries do not advance from primary education.
Effective ICT software programs can provide the adaptive framework and sequencing to give children the individualized instruction they need while improving reading skills and enhancing the classroom experience. To be effective, personalized learning challenges and supports each child at his or her own level. The curriculum included in any program aimed at offering personalized learning must be
Engaging for students to hold their interest and motivate them to continue
Based on research to provide effective curriculum and instruction
Broad and deep to provide the content needed for true individualization
Carefully sequenced to provide the personalization each child needs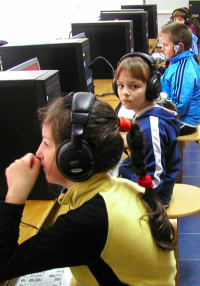 In Waterford Institute's Waterford Early Reading Program, all four requirements are met. The program is full of engaging activities, characters, music, and songs that provide research-based instruction that meet national requirements. Plus, the content is extensive and sequenced to adapt to each child's individual needs.
In the program, each child experiences learning different as the program continually adjusts based on each child's mastery of concepts and performance. In this way, each child experiences a personalized learning path, receiving instruction and challenges, remediation, and repetition as needed to understand a concept that will lead to mastering specific reading skills.
This means that he or she will be presented with specific learning activities tailored to his or her own learning needs. Where a child may be struggling with a concept, he or she will receive more instruction and practice. Where a child shows mastery of a skill, he or she will move on to more challenges.
An evaluation performed by Stephen Powers, PhD, and Connie Price-Johnson, M.A. at Creative Research Associates in Tucson, Arizona, in 2006 is just one of many third-party evaluations of the effectiveness of Early Reading Program. The study showed the effectiveness of the program's instructional and individualized learning approach by comparing students in U.S. Title I elementary schools.  A "treatment" group of 15 schools used Early Reading Program, while a "control" group of 15 other schools did not. Matching techniques and statistical controls were used to evaluate each group.
Final assessment and analysis indicated that kindergarteners who used Early Reading Program outperformed the comparison group of kindergarteners in all outcome measures. And among English language learners in both groups, kindergarteners who used Early Learning Program substantially outperformed the comparison group of English language learners.
Many studies have demonstrated the effectiveness of ICT in providing personalized instruction, for both English native speakers and English language learners. Research results obtained by the Henrietta Szold Institute in Israel have indicated that Waterford Institute's computer-based, adaptive instruction has been effective in accelerating English acquisition for children using the software.
The concluding point is that ICT provides real efficacy for reading instruction as it provides the adaptive and personalized instruction that each student needs. And it is scalable, offering a consistent, enhanced learning experience to large numbers of children in a wide variety of circumstances.
The Waterford Early Learning software in reading, math and science is available in multiple deployment models, including being completely being completely disconnected from the internet in a locally self-contained deployment.