English in Action Across Bangladesh
English in Action is a nine-year programme to help 25 million people in Bangladesh improve their ability to use English language for social and economic purposes.
In Bangladesh 1 in 5 teachers have no teaching qualification (UIS, 2006) and the EIA programme aims to significantly improve the teaching of English by offering alternative forms of support including integrating ICT. We have adopted different approaches in primary and secondary education in order to evaluate the effectiveness of each and also to mediate the different levels of teacher expertise at primary and secondary level.
This project creates resources for the classroom and for teacher professional development using mobile technologies, which are then deployed by primary and secondary school teachers. Currently there is a critical shortage of English language skills, both throughout Bangladeshi society and within the teaching profession.
Support structure
In this initial pilot phase (2008 – 2011) EIA is working with 700 teachers across all 6 divisions of Bangladesh – 450 in primary and 250 in secondary. The teachers are involved in the project in pairs ie two teachers per school. This ensures that they are not isolated in their schools and have someone to voice successes and concerns with on a daily basis.
We have adopted a blended approach, mitigating ubiquitous mobile technology in the teachers' pockets with monthly 'cluster' meetings where 20 teachers in a district meet to discuss their progress. Teacher facilitators, who also have contact with each other and us through the use of mobile phones and netbooks, facilitate these meetings.
Primary
Many primary school teachers in Bangladesh receive no teacher training prior to entering the classroom. They also have in many cases very little English language understanding and are a few steps ahead of the children in their use of the language. This obviously results in the children receiving minimal modeling of good communicative language practice.
In order to give the children and teachers access to clear and accurate English the materials for the primary intervention have been designed for classroom use. Each teacher has an mp3 player loaded with classroom materials and accompanied by speakers. There is no remit within the project to change the textbooks, so the materials on the mp3 player support the content of the textbooks: there are 2 audio chapters each of approx 4 – 6 minutes for each unit of the textbook.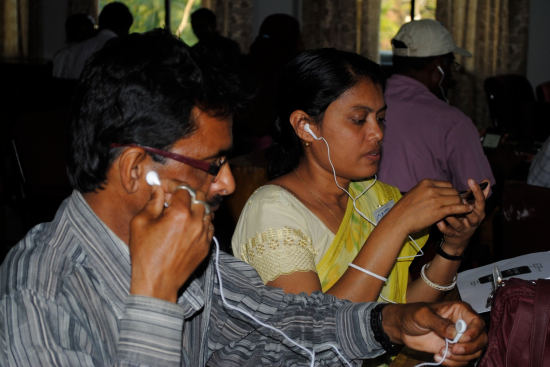 These are accompanied by a range of large posters, flashcards, figurines and alphabet and number charts which the teacher uses alongside the audio. The audio code-switches between Bangla and English to ensure that the children understand the context within which the English dialogues are set. Each teacher also receives a guide to using the materials and the mp3 player contains files of classroom language for the teacher to practice and video of good classroom practice which can be discussed in the cluster meetings.
The teachers are encouraged to film each other's classes from time to time using a small Flip video to build in reflective and critical practice.
Secondary
The secondary classroom context is somewhat different as the teachers are specialist teachers of English and all have degrees with many holding MA/MEd. The emphasis here is on school-based teacher professional development.
Through the use of handheld learning devices, bilingual, multi-modal materials are delivered which engage teachers in practical activities that represent classroom realities and the sociolinguistic situation in Bangladesh. The programme also encourages teachers to reflect on activities, adapt them to their own contexts, and slowly gain confidence in a localised version of CLT.
Teachers are not expected to have native-like fluency in English, and are encouraged to use Bangla when necessary. As with the primary materials, there are also files with classroom language and video of classroom practice. These devices can also be used in the classroom as many text book dialogues, readings, poems and songs have been recorded.
Listen to Secondary School Audio Lesson Example
Teachers in the programme learn and apply their learning in the authentic setting of the classrooms, schools and communities in which they work. They also participate in local, national and, ultimately we hope international, professional networks which help develop, support and sustain their new practices.
Appropriate Technology
Being grounded in the national curriculum and by using culturally familiar settings, EIA materials and delivery modes have been made appropriate to teachers' contexts. In using ICT to improve the pedagogical practice of the teachers we believe there will be a strong impact on the language capabilities of the students.
By putting the technology initially in the hands of the teachers rather than the students, we are able to offer large numbers of students access to authentic materials and a more communicative language approach at a relatively low cost.
These approaches to the use of technology in the classroom and for professional development are being monitored and evaluated over the next 10 months.
EIA Consortium
The English in Action programme was requested by the Government of Bangladesh, and is funded by the UK Department for International Development (DfID).
BMB Mott MacDonald provides the project management team for the consortium. The Open University UK is involved in the Teacher Professional Development programmes. Other members of the consortium are BBC World Service Trust, Friends in Village Development Bangladesh, and Underprivileged Children's Education Project.