Live Debate Impression: Are ICT Investments in Schools Wasted?
As a remote participant I went into today's debate duly confused, an appropriate state of mind for anyone facing honest investing in ICT for education. In addition, this FOR and AGAINST were a bit confusing, since FOR was "against" investment, seeing it as a waste, and vice versa sometimes adding multiple negatives…
Thus, my vote (not logged – we need to get remote participants to be counted!) was "undecided".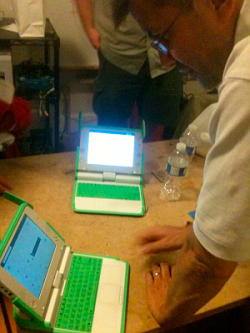 Having gone on the record many times criticizing careless implementation of ICT4E, I have very good arguments agreeing with the FOR motion, that ICT4E investments are a waste. Yet I still invest most of my expendable time and resources supporting the chance we will figure out a way to do it right, thus clearly my action has a strong element AGAINST the motion.
At first the debate didn't help much. Same old arguments we have rehashed over and over, with the interesting twist that a couple presenters seemed to be defending the other side… Like Wayan (AGAINST team) admitting a lot of investment is wasted, or World Bank Sam (FOR team) conceding there is much interest in ICT spending, which they support. I guess that made them sound as if they were open for the nuance in the word "most" that is part of the debate title, a reasonable "being nice to the opponent" strategy in debate.
As things were closing down and by the time those present in the audience had already recorded their change of vote, during one of the last arguments I remembered the Pascal Dilemma. If I recall it correctly, good old Blaise couldn't prove if Heaven or Hell existed, but, faced with that uncertainty, he posits that the outcome of ending up in hell is so bad that, even in the absence of certainty, it is better to – just in case – seek salvation and do your best so you end up in heaven.
Mutatis mutandis, the outcome for a country ending up short in the effort to bridge gaps and development is so bad that it is better to risk some investment be wasted, than to be too cautious and end up a loser either way. I am sure that the FOR people do support well qualified investment in ICTs for Education, for so they said, they just want it done right, something I completely agree with. I am sure also that the AGAINST people are completely aware that not all investment is well used, and they also would prefer more care be given, totally in agreement with stuff I have written and stand for.
Moreover, if we follow published so-called "ICT4E research" which is often not much more than infomercials, there indeed seem to be little hard evidence that this field is going anywhere, as the image given is obscured by too much emphasis on mere feel-good, best-case anecdotes. Yet the same can be said for pretty much any initiative in education, the exception being circular notions like enforcing the role of testing, a great fashion in the US, which actually does get better results in tests without yet being it clear how much real-life impact good test scores actually have. For ICT it sometimes seem to be something similar, that we should do ICT because ICT exists.
In answering what is the impact of ICTs, the lack of hard evidence basically proves researchers do not know how to do research, or are clumsy, or both. Or maybe that the impact is too hard to actually measure objectively, something I cautiously disagree with.
I, for one, am among those who got an enormous benefit out of getting into computers ('82, 18 years old), but I would be the last to expect someone to try to scale up and replicate the Yama personal experience to a whole school or country. Things are too complex, people have different outcomes from their encounter with learning and/or with school, experiences not at all the same. Add to that cognition/learning styles differences, etc.
So I am convinced that ICT works great, for some, and also that it will never work, for some. Just like all or any of education, despite our best intentions.
And then, maybe we end up with a simplistic metaphor: you cannot win the lottery unless you have a ticket. Or, following Pascal, it's in your best interests to try to make it to heaven.
Bottom line, as an administrator in the education field you will often *have* to make choices by faith, more than by evidence, this of course being complicated by the apparent lack of desire to share valid evidence by those who do have access to it.
I would say that this debate has helped me understand that we *should invest* in ICTs for schools, even in the absence – so far – of good evidence of positive outcomes. Thus I changed my vote, to be AGAINST the motion that such investment is a waste.
I don't want to be too hasty to generalize a conclusion regarding the fact that my side lost, i.e., more votes got changed to FOR, that is, more people apparently gained an understanding that most investments in tech for schools are a waste, than those who, like me, embraced the opposite view as a result of this debate.
If I were hasty I might interpret this vote as an indicator of the start of the deflation of the ICT in Education bubble, if it ever existed. Education has a tendency to pick up fashions, bright ideas that eventually die out (kids develop immunity, some wag said). Is it possible that tech for ed, which actually never really took off, might already be dying even though several countries are embarking in massive programs? Is this related to the general lack of credibility in the model? I can't blame administrators and big funders for their caution, though of course it draws me crazy they are not supporting my project…
Subjective, feel-good "research" never really helped, and we don't seem to be able to get much of the other kind to really prove to funders and decision makers that tech for ed makes sense.
Intuitively I have always sided with the feeling that there must be a way to make tech in ed work, because, intuitively, it certainly does makes sense, and so does the majority of people believe and hope. Also I have many times complained that some of the best placed people who could help solve this scientific question are not helping. I just hope we can figure out, soon if possible, real indicators that we can count and show using good research, so the positive role of ICTs in education can be proved beyond reasonable doubt.
Until then I stand, a battle lost here in Delhi, but quite ready to fight another day.