Distance Learning in Russia: Lessons Learned and Questions Raised
Distance education in Russia has its history of almost 90 years. It was launched in the 1920s when the first departments of distance education were organized in the conventional universities, and it was usual practice. For example, Moscow State University of Economics, Statistics and Informatics (MESI) was founded in 1932 and a faculty of Distance Education was established three years later, in 1935.
During next almost 70 years distance education existed in the only one form, namely teaching/learning by correspondence with short face-to-face sessions and exams (usually twice a year). This tradition causes nowadays both positive and negative consequences. On the one hand, the methodology of distance education has a solid basis and serves the quality assurance but one the other hand the customary approaches detain progressing modern forms of distance learning.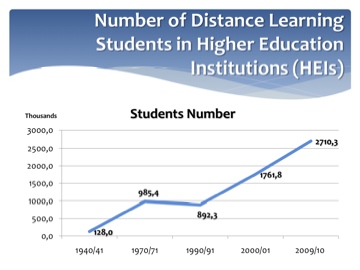 .
New stage of distance education started in early 1990s with introducing information and communication technologies (ICT) into education. The number of distance learning students in Higher Education Institutions (HEIs) increased noticeably (in thousand: 1940/41 academic year – 128,0; 1990/91 – 892,3; 2000/01 – 1761,8; 2009/10 – 2710,3). In 1995 the National Concept of Distance Education Development was adopted and the State Program of Informatization of Education was launched. MESI and its partners initiated modifying the Law on Education, and the article on distance education technologies was approved.
New boost of distance education and distance learning in mid-2000s was triggered by rapid development of the Internet and ICT infrastructure in the country. Nowadays distance learning is represented almost in all social segments: higher education, secondary school, varied kinds of industries and social communities. Distance learning as acquiring new information, mastering certain skills and self-education in different fields with the use of the Internet, PCs and mobile devices has become daily practice for many. The latest data of September 2011 from comScore shows that in Russia there are 50,8 million of individual users above 15 years old (total Russian population is 142,9 million) – more than in any other European country.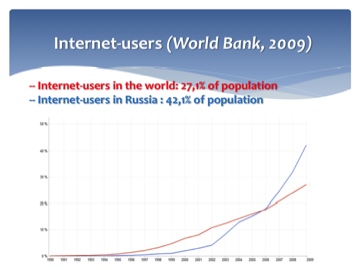 .
Though at present the fluent sharing information and hence distance learning more and more affordable and accessible, the role of HEIs in distance education is still very important and should be even higher in future. HEIs have potential for: navigation in the ocean of information; quality assurance; producing and sharing quality open educational resources; creating and advising on targeted paths towards mastering skills and knowledge, especially professional ones; providing educational services for different target groups – from children to pensioners, etc.
In our time in Russia the main constraints for strengthening modern quality distance education are not poor facilities or slow Internet speed but seem to be as follows:
Many students are more skilled in ICT than their teachers. This could be easily overcome by training teachers (e.g. a special course "Teacher in e-Learning Environment" in MESI is constantly updated and regularly delivered to faculty) as well as by joining net-generation the academic community.
Lack of professionals in pedagogical design shaped for distance education. Russian classifier of professions doesn't contain such words as tutor, pedagogical or instructional designer, etc. There are no related degrees. Only few HEIs deliver courses on ICT in Education, for example MESI, set a specialization in Applied Informatics in Education.
Some old norms and regulations with which HEIs must comply (to be accredited) are contradictory to the reality of distance learning, e.g. ratio student/ teacher, square meters per student, number of volumes in a library, neglecting digital libraries, requirement for grading exams only in the premises owned by HEI, and other. MESI actively participates in inducing new Law on Education which should remove these barriers and allow delivering quality education to everyone looking for it and having the access to the Internet at any place and any time. Accurate legislation is imperative for smooth growth, and we highly appreciate the ICDE initiative on launching Regulatory Framework the first round of which was implemented by the colleagues from Australia for a number of countries in Asia and Pacific. Dissemination of the results and implementation of elaborated methodology should be of benefit for global distance educational community, including its Russian part.
More details were presented at the ICDE special session on Learning Cultures – An International Panorama during ONLINE EDUCA Berlin 2011 (Case of Russia).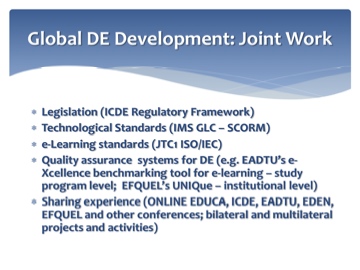 .
As the panorama shown, there are some differences but at the same time there is much in common in distance learning growth in the BRIC countries (so called growing economics), advanced economics and developing countries. It's clear that all of us need joint work and sharing experience in the fields of legislation, technological and e-learning standards, pedagogy and teacher development as well as seeking for common approaches to the quality assurance in distance education.