Open and Distance Learning in India: Maintaining Balance with Technology
India is a country of diversity. The present scenario of higher education is overwhelming. As all are aware India is the Second populous country of the world. There is a growing imbalance between the intake of students and those seeking admissions. Indian Education system follows a 10+2+3 pattern
Today there are around 300 universities and equivalent institutions together with 13,000 colleges with 8.8 million students. Though such an expansion has democratized higher education, (40 per cent of students are from low socio-economic strata together with 35 per cent being women).
Technology has reached almost all provinces in India, it's true that every house even in remote places there is at least one mobile in every home. This has led to a window to the world of techno savvy inquisitives maybe using computers or Mobiles.
In rural areas, Farmers are using mobiles in dealing with their produce on a day to day basis. There are Open Universities that offer programs through distance mode.
Most of the universities in India are adapting to technology based teaching.
.
As mentioned in the slides, there is a imbalance in access and training of technology based teaching. Faculty recalcitrance is a major concern, most of the faculties prefer the conventional mode of teaching. It is interesting during my interaction with some faculties and Heads at the Departments from University of Mumbai-their concern was not using technology in teaching or offering online learning programs. Their main concern was regarding the teaching hours as they are comfortable in stating their teaching loads based on number of hours per week.
Coming back to students at IDOL, for M.A –Education part II, it is surprising that in an optional paper of ICT, approximately 180 students out of 540 opted for online program. Most of them did not have computer at home nor email id, today all have accessed the university website and contributed effectively by participating in Blogs, screenshots of some are provided in this paper.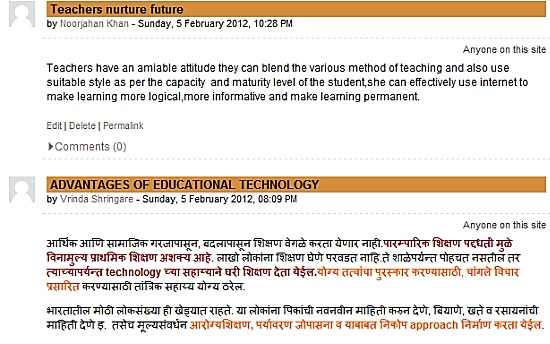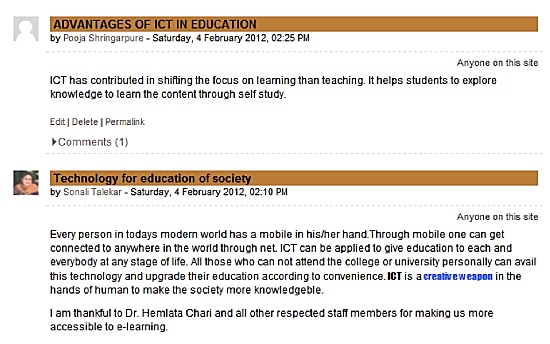 Student's who could not type and use keyboards are sending assignments online. A remarkable achievement by IDOL University of Mumbai.