Developing Trend of Open and Distance Education in China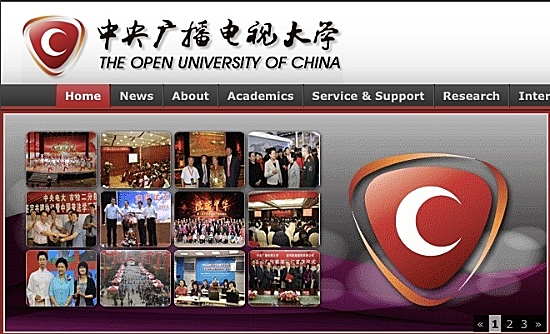 There are many organizations, corporations, and institutions conduct open and distance education in China, among which two strands represent the mainstream of open and distance education development.
The Open University of China (Hereafter the OUC), based on the original China Radio & TV Universities system (the CRTVUs' system) is now under construction, which symbolizes that the strategic transformation process has been started from the CRTVUs into open universities. The Outline of National Medium and Long-Term Plan for Education Reform and Development (2010-2020) has clarified further objective and mission of our national education system reform and China Central Radio & TV University has been listed as one of the pilot units to explore the mode for building open universities.
Also there are 68 e-colleges in conventional universities utilizing information technology for open and distance education delivery. With a view of implementing the strategic objective laid out by the government, open and distance education institutions have defined their further measures to facilitate continuing education and life long learning.
First of all, both the open universities and e-colleges in China are trying to focus on quality education for their degree and non-degree programs. Quality issue has been on the agenda of different universities for daily operation of open and distance education. The practitioners in the field of open and distance education are now trying to explore the balance among scale, quality and cost. The philosophy of students-centered ideas has been taken as guidelines for China's ODL practice in meeting diversified learning groups who expect more quality learning resources, relevant learning platform and effective public service systems, which entrusts the OUC with many new tasks and challenges ahead.
Secondly, while enhancing and upgrading degree education programs, multiple training programs have been developed for the objective of lifelong learning by using information technology to increase the overall educational standards, and facilitate teaching and learning reform and innovation.
Thirdly, a good mechanism for sharing quality resources is being constructed. The learning resources will be planned totally open to the whole society to allow the general public to acquire what they really want. The initial step is to pool resources available and then to solve the problem of accreditation, accumulation and transformation of learning achievements.
Fourthly, public service systems in accordance with the profession and regions are being built in order to offer necessary support to the varieties. The healthy competition and complement advantages from each other are encouraged so that people can obtain best services.
In all, the trend for open and distance education in China is towards offering high quality programs, creating technology-enhanced teaching and learning environment, making quality resources available and open to the public, meeting diversified requirements, clearing obstacles, connecting variety education programs and building the overpass of life-long learning.
By producing quality resources, by increasing capacity for running schools and services, by utilizing satellite, TV, internet, mobile terminal to offer affluent degree and non-degree education programs to enable learning to take place anywhere, for anybody, at anytime. China is intending to offer quality educational resources to every household, whether people in remote area or inhabited in the vast rural territory or minority group region.
The key issue is to meet the demands of all the social members for acquiring high quality educational resources and services so that we can ensure education opportunities offered evenly throughout the whole country and realize education equity and social justice in a real sense.