Open Educational Resources and Distance Learning in Brazil
Brazil has experienced strong socioeconomic changes in recent years, including the reduction of poverty, the rise of a new middle class and higher proportions of older people. One of the main demands that accompanies and drives this movement is expanding access to higher education and the growth of lifelong learning needs.
The main feature of Brazilian higher education is its heterogeneity. An establishment may be distinguished from another, under various formal aspects: its institutional (university, university center, a federation or integrated schools or college); administrative category (public or private), the legal personality of its sponsor (government, foundation, civil society or private), whether or not for-profit, its constitution as secular or confessional institution, and is confessional, the religion or church to which it related.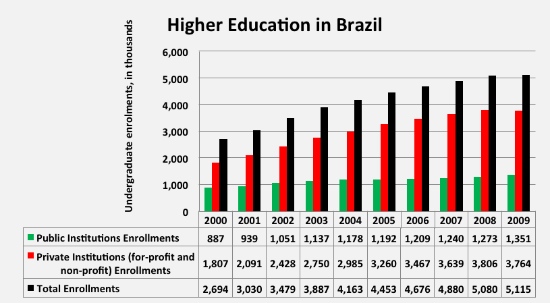 .
Distance Learning is growing dramatically in Brazil in the last 10 years, somehow accompanying and collaborating with the social and economic changes that Brazilian society is experiencing. It should be noted that the numbers of undergraduate distance learning entrants in the period between 2004 and 2008, growth always equal to or greater than 40% per year, reaching a peak of 407% in 2005.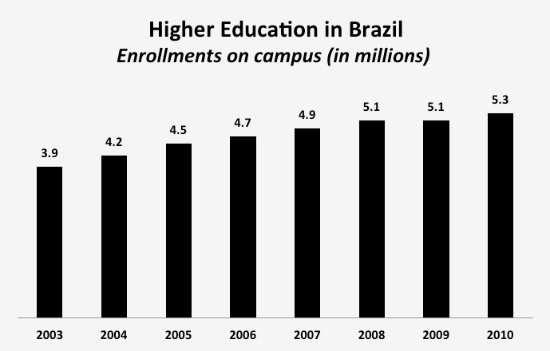 .
The percentage of students in distance learning among all higher education enrollments emerged from the level of 1.4% in 2002 to 16% in 2009, peaking at 19.8% in 2008, falling to 14.6% in 2010, thanks to some changes in national legislation. Almost one in six students enrolled in undergraduate studies in Brazil enters into a distance learning course.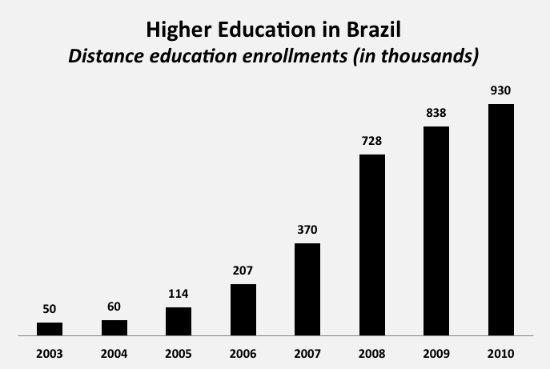 .
It is expected that the number of distance learning enrollments triple and reach 3.1 million over the next eight years. This expansion will occur, mainly on account of a group of about 20 million people, aged between 25 and 39 years who graduated from high school but not enrolled in college.
Proponents of distance learning note that are good the results from the national exams applied by the Ministry of Education, which evaluates both – on campus and distance learning – higher education courses.
Only in recent decades is that illiteracy was seriously faced in Brazil. However, television is present in the vast majority of Brazilian homes for over 40 years. The same for cell phones in the last 10 years. This means that in many places, especially in the countryside, it is common that television has become the primary means used to inform the population and learn about the reality around them. Perhaps it can be identified as a factor that facilitates the adoption of TIC by Brazilians, who look as have less resistance than other people in this regard.
Another important factor that drives the adoption of distance learning and educational technologies, including for children and teenager's schools, is the ease with which digital natives adapt to this new world and begin to show impatience with the traditional teaching models.
However, if we consider the Informal and Non-Formal Education, a recent survey showed that 11% of Internet users in Brazil use the computer for some distance learning course.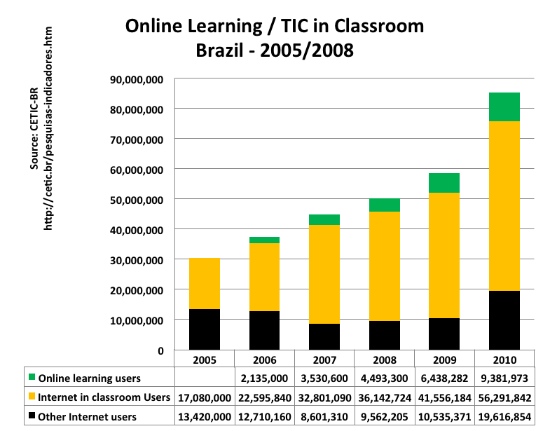 .
In that context, Open Educational Resources (OER) must be seen as a promise still not accomplished. To the ones with internet access is possible to find useful digital materials to teaching and learning, but mostly which are not in the public domain or openly licensed to be used or adapted by others.
The use of open technical formats or licenses to facilitate access and potential reuse of published resources digitally is not widely adopted, especially by the private institutions. On other hand, governments and non-profit institutions are producing open full courses, parts of courses, modules, textbooks, research articles, videos, tests, software, and any other tool, material or technique that can support access knowledge as part of OER public policies. A more deep analysis about recent efforts in that field can be found at the book "Open educational resources in Brazil", by Andreia Inamorato dos Santos for Unesco Institute for Information Technologies in Education.
The fast growing expansion of OER in Portuguese has created appropriate conditions for its adoption by educational institutions, whether private or public. In countries like Brazil, where socioeconomic inequalities are a huge problem, OER can contribute to making education more accessible. To do so, we must rethink the didactic and pedagogical practices to develop new approaches. It means also new organizational models.